Whitney Houston's Death Highlights the Growing Trend of Celebrity Death by Prescription-Drug Abuse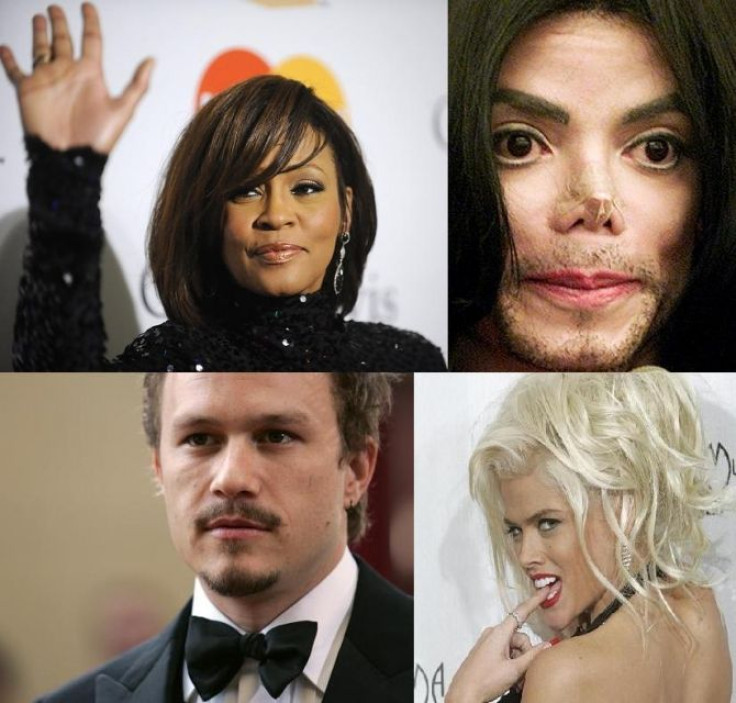 Whitney Houston may be among the growing list of celebrities who have died from "accidental" prescription drug overdoses.
Relatives of the 48-year-old singer said that she was taking Xanax, which is commonly used for anxiety and depression, and police had discovered a half dozen of prescription drug bottles in the hotel room where Houston had died, according to TMZ reports.
Houston had also been drinking a lot the night before she died in the Beverly Hilton Hotel bathtub where she was found slumped over with her head submerged in water.
Xanax, if taken with alcohol, magnifies the effects of alcohol and may increase the side effects to a level that is life-threatening, and numerous reports speculate that Houston fell asleep in the bathtub possibly after taking a combination of Xanax and alcohol.
Untimely, accidental death-by-overdose of prescription drugs appears to be a growing trend among celebrities in recent years.
Although Michael Jackson's death was ruled a homicide, the king of pop reportedly died of an overdose of the powerful anesthetic propofol as well as the sedative lorazepam, at the age of 50 in 2009.
Actor Heath Ledger, who played in films like Brokeback Mountain and The Dark Knight, had also died as a result of prescription drug abuse. Ledger died of "acute intoxication by the combined effects of oxycodone, hydrocodone, diazepam, temazepam, alprazolam and doxylamine," according to autopsy reports from the Office of the Chief Medical Examiner of New York in 2008.
Anna Nicole Smith, who first gained popularity as a Playboy magazine's 1993 playmate of the Year and wife of Howard Marshall, an oil tycoon who was 63 years older than her, had died in 2007 at the Seminole Hard Rock Hotel and Casino in Hollywood due to an "accidental drug overdose" which consisted of a combination cocktail of 4 benzodiazepines and sedative chloral hydrate among others.
Brittany Murphy, an American actress and singer who starred in films such as Clueless, 8 Mile and Uptown Girls, had reportedly died of pneumonia with secondary factors related to "drug intoxication" by a combination of over-the-counter and prescription medications including hydrocodone, acetaminophen, L-methamphetamine and chlorpheniramine in late 2009.
More recently, Medical Daily had reported that Leslie Carter, 25, the sister of Nick and Aaron Carter had passed away on Jan.31 from an apparent overdose police had reported. Authorities reported that they had discovered prescription drugs Olanzapine, Cyclobensaprine and Alprazolam, drugs that treat schizophrenia, bipolar disorder and anxiety near Carter's body.
Marilyn Monroe, Elvis Presley and Judy Garland were also among the celebrities who experienced untimely deaths by prescription drug overdose, but the abuse of legal pharmaceuticals is not limited to celebrities.
According to Drug Enforcement Administration figures, nearly seven million Americans abused prescription drugs in 2009. However, the abuse of these medications is nothing new.
Prescription drug abuse nearly doubled from 2000 to 2007, according to the U.S. Department of Health and Human Services' National Survey on Drug Use and Health, and some health officials are calling the surge in prescription medication abuse an epidemic.
"This report revealed that our nation is in the throes of a growing epidemic of controlled prescription drug abuse involving opioids like OxyContin and Vicodin, depressants like Valium and Xanax, and stimulants like Ritalin and Adderall," Joseph Califano, Jr. Columbia University's National Center on Addiction and Substance Abuse Chairman and President, told the Senate Judiciary Committee in 2007.
"Any time you see an overdose or a catastrophic event like this it's horrible and it reminds us of the dangers and the real risks of using drugs. When it happens to celebrities it gets more dissemination," Kevin Conway of the Division of Epidemiology, Services, and Prevention Research at the National Institute on Drug Abuse (NIDA) told Live Science in 2009 referring to Jackson's death. "So it's a bad thing, but it reminds us of what the real harms are."
"That's a new phenomenon that we've witnessed over the past five or 10 years," Conway had added.
Published by Medicaldaily.com