Best Mattress for Upper Back Pain and How to Sleep with Upper Back Pain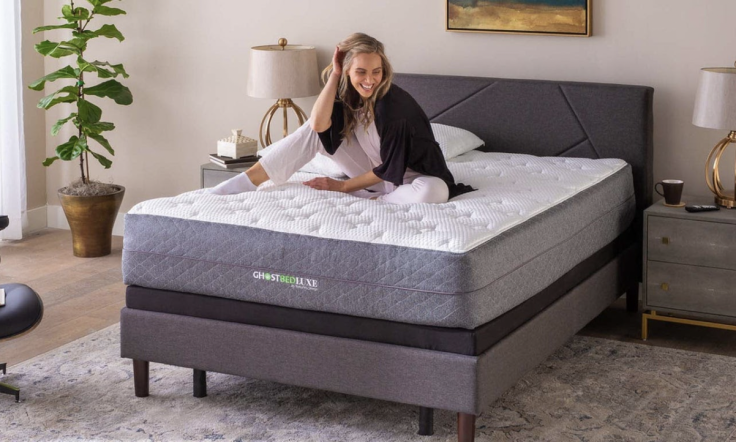 Most ailments known to mankind depend on lifestyle, surrounding environment, emotional wellbeing, and sleep quality. Good quality sleep promotes healing from our daily grind so that we can function at our best the next morning.
Those who suffer have short-term or chronic ailments must make it a priority to sleep well to contain the disease or slow down its progression. Chronic or persistent back pain is one of the most common forms of health issues affecting over 16 million US adults at present. Back problems introduce stress, anxiety, hopelessness, and take a toll on annual income, productivity, and even retirement outlook for many individuals. The annual medical expenses related to back problems in the US are estimated at $12 billion.
How Sleeping Position is Related to Back and Neck Pain
Sleeping with upper back, shoulder, and neck pain has been found to be directly correlated to your sleeping position. According to Raymond J. Hah, MD, a spine surgeon at Keck Medicine of USC, stomach sleepers face higher risks of developing back pain. He added that sleeping on your stomach exerts maximum pressure on your spinal joints and muscles as this position disrupts the natural curve of your spine. Moreover, this awkward sleeping position compels you to turn your neck, which could result in the pain that you feel.
Sleeping on your back could help you avoid sleeping with upper back pain and neck pain since it evenly distributes weight across a larger surface area, reducing pressure points. At the same time, make sure to place your pillow in such a way that it fills in the space between your head and neck, but not the shoulders.
Side sleepers using an unsuitable mattress could introduce muscle imbalance, and eventually pain. When sleeping on your side, it is advisable to place a pillow between your knees and use a thick pillow to rest your head on to keep your neck, spine, and pelvis aligned to avoid sleeping with upper back and neck pain.
Back pain could arise from poor posture, unbalanced nutrition, excessive stress, lifting heavy objects, poor sleeping experience, and prolonged inactivity. While you can consciously limit activities during work that could aggravate back pain, not prioritizing your sleep quality, mattress type, and sleeping style could render all progress void.
Mattresses Designed to Alleviate Upper Back and Neck Pain
Since the pandemic, we have been spending much more time on our beds which makes it even more important to make sure that your mattress is good for back pain and spinal alignment.
A world-renowned sleep company called GhostBed is the product of innovation and cutting-edge tech. It is currently well-positioned to lead the massive sleep industry, which is expected to become a $130 billion industry by 2026.
A pioneer in creating new-age mattresses that blend in patented technology for improving sleep and offering optimum comfort for all kinds of sleepers, GhostBed offers a range of mattresses that could work well for those sleeping with upper back, shoulder, and neck pain, as well as body stiffness and even arthritis.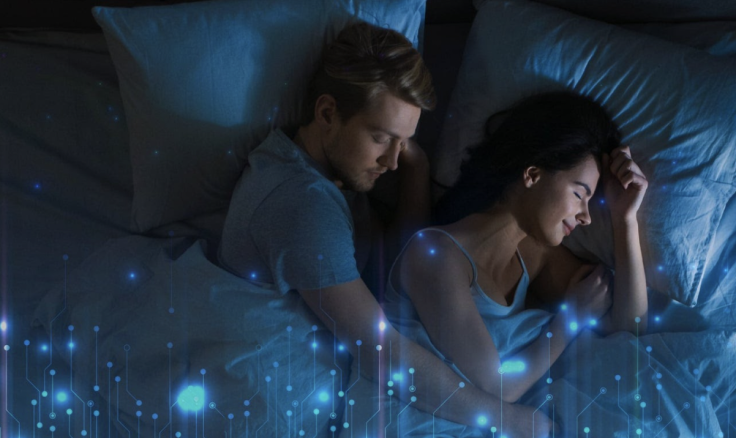 The Ghost 3D Matrix SmartBed mattress is GhostBed's top-of-the-line mattress that employs patented cooling technology, sleep tracking features, real-time position, and firmness adjustments with the help of 4,000 biometric sensors and medical-grade air chambers that track pressure points.
The mattress has two individual zones with 2,000 biometric sensors and 40 settings on each side that make it perfect for couples who have different firmness or temperature regulation requirements in sleep.
Their patented 3D matrix gel polymer layer and Ghost ice-cooling cover work together to gauge your sleeping position and body temperature to change shape in real-time while drawing away excessive heat from you throughout the night. The adjustable firmness feature of this 12-inch mattress that is founded on a 2-inch high-density foam can offer the required firmness and comfort for those who need added support due to joint pain, arthritis, or limited range of motion.
The smart bed costs $6,999 with the option to avail of white-collar delivery. If your sleep doesn't improve in the first 101 days, you can return the product for free within that duration. Each of these cutting-edge mattresses comes with a 25-year warranty, too!
Check out the Ghost 3D Matrix SmartBed mattress here.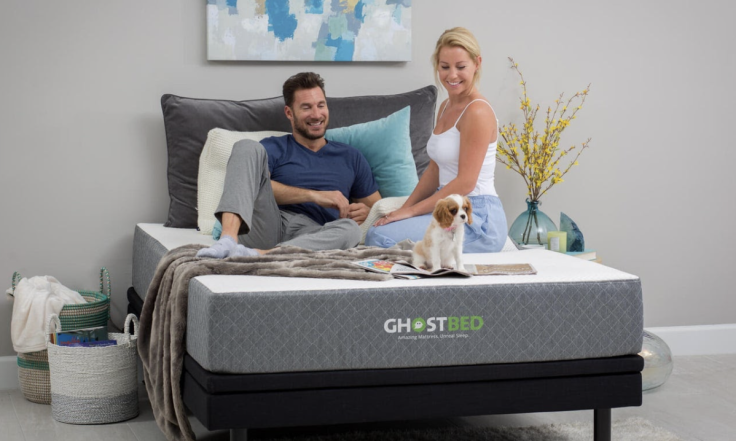 One of their most popular mattresses, the GhostBed Classic, is a 4-layered 11-inch mattress founded on a 7.5-inch durable high-density foam with a cozy and breathable top plush layer. It offers a firm but comfortable feel designed to relieve body stiffness, pressure points, and back and hip pain.
An aerated latex (non-allergenic) foam followed by a proprietary gel memory foam layer work collectively to help you stay cool by transferring excessive heat away from your body. This mattress aims to provide a very comfortable sleep experience at an affordable price point of $945.
With lightning-fast delivery options, your purchase comes with a 20-year warranty and a 101 sleep trial period to test if the mattress can really help you avoid sleeping with upper back, shoulder, and neck pain.
Check out the GhostBed Classic mattress today.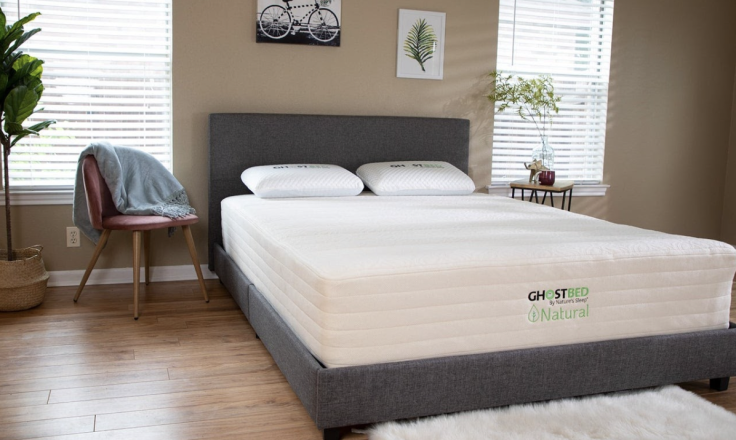 The eco-friendly GhostBed Natural is a 5-layered 12-inch mattress built with an organic cotton top layer followed by natural wool and Talalay Latex layers to combine durability with natural cooling and support. The individually-wrapped airflow-enhancing 8-inch coils serve as the 4th layer. It is reinforced with GhostBed's proprietary Spirited Edge support technology followed by a 1-inch Dunlap natural latex designed to offer support and longevity and to avoid sleeping with upper back, shoulder, and neck pain.
The breathable and durable Talalay and Dunlap latex layered with natural and fire-resistance wool exhibits an extremely comfortable yet supportive feel while naturally dispersing body heat.
This one-of-a-kind eco-friendly and long-lasting mattress boasts of materials that meet the Global Organic Textile Standard and Global Organic Latex Standard. It also has USDA Organic, Control Union, and OEKO-TEX certification.
Fit for all sleeping styles, the contouring and supportive feel are highly recommended if you like a soft feel with the support that alleviates sleeping with upper back, shoulder, and neck pain, and assists in spinal alignment. You may also avail of a white glove delivery of this mattress that pledges a 20-year warranty. It is priced at $1,362 with flexible payment options.
Check out GhostBed's Natural Mattress here.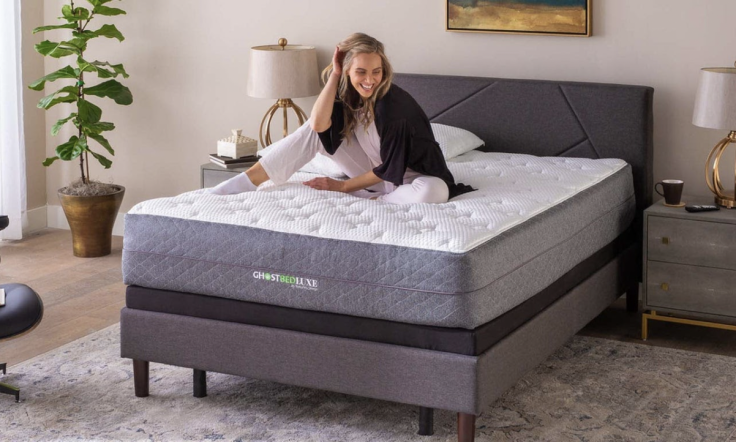 The intricately designed award-winning and patent-pending GhostBed Luxe is a 13-inch 7-layered mattress with a 7.5-inch high-density foam foundation designed to offer relief from sleeping with upper back, shoulder, and neck pain.
As a multiple-award recipient for the coolest bed in the world, the top layer consists of a Ghost Ice fabric cover woven with an airflow-enhancing cooling fiber followed by a patent-pending Ghost Ice layer for efficient heat transfer away from the mattress core. Two layers of scientifically-placed gel contouring memory foam offer a super-cozy feeling, assist in drawing away heat, relieve pressure points, and avoid sleeping with upper back and neck pain.
This combination is best for hot sleepers who look forward to a cool and very comfortable yet supportive feel when sleeping. Every purchase comes with a 101-night sleep trial period and a 25-year warranty for you to understand if it suits your style. The GhostBed Luxe is priced at $1,624.
Check out more details on the GhostBed Luxe here.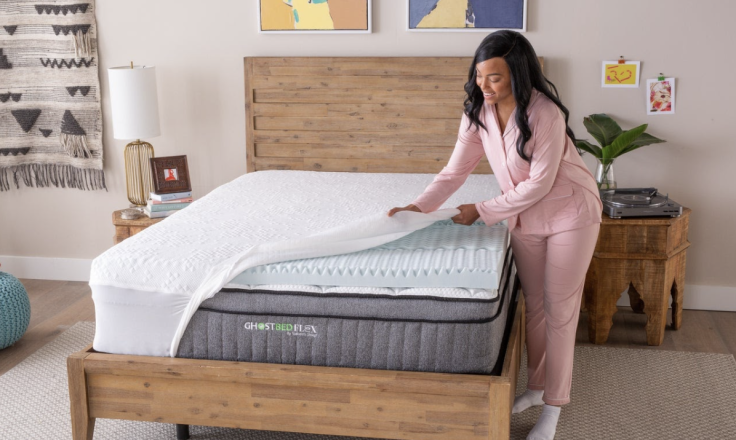 You can also go for GhostBed's foam mattress topper, the best mattress topper for upper back pain. Just place it on top of your innerspring mattress for additional support and to improve the longevity of your current mattress. Their topper is made of a 3-inch gel memory foam for contouring comfort and heat absorption fitted with 2 inches of GhostGrip elastic band that features their patent-pending cooling technology and also keeps your topper in place.
The waterproof topper has varying grooves and peaks, placed scientifically, to offer a better sleep experience for all sleeping styles by relieving pressure based on your body structure and weight distribution.
The best mattress topper for upper back pain comes with a 5-year warranty and is available in all sizes with prices starting from only $229.
Check out the GhostBed Memory Foam Topper here.
When buying a mattress aimed to avoid sleeping with upper back and neck pain, you have to look beyond firmness and check for density. The ideal density for many could be medium-firm, but your sleeping position also determines the kind of mattress that would be good for spinal alignment and pressure point relief.
GhostBed's decades of reputation and track record in this rapidly-evolving industry that come with a 20- to 25-year warranty and three-month sleep trials make them a safer place to purchase a mattress that could efficiently help you avoid sleeping your upper back, shoulder, and neck pain.
Published by Medicaldaily.com