Half Of Male College Athletes Admit History Of 'Sexually Coercive' Behavior Such As Sexual Assault, Rape
A new study published Thursday in the journal Violence Against Women may provide a revealing look into the disturbing reality of sexual violence seen on college campuses.
The researchers conducted an online survey of 379 male undergraduate college students under the age of 23 enrolled at an unnamed public university within the southeastern United States. Roughly half were either intercollegiate athletes who officially represented their school or regularly participated in recreational sports. The other half were nonathletes similarly matched by age and other demographic factors. The students answered a variety of questions about their history of sexually inappropriate behaviors as well as their beliefs concerning traditional gender roles and the nature of sexual assault.
A startling 54 percent of the student-athletes admitted to committing at least one "sexually coercive" act in their lifetimes, such as making their partner have sex without a condom or using physical force or threats to commit rape. Nonathletes fared better, but 38 percent still admitted the same. Athletes were also more likely to endorse negative attitudes toward women and believe common myths about rape than their nonathletic counterparts. The researchers argue that these differences in beliefs account for the greater rates of sexual coercion seen in the athletes.
"Sexual assault on campuses — and in society more generally — is a serious problem that needs to be addressed," study author Dr. Sarah Desmarais, a psychologist at North Carolina State University, told Medical Daily. "We wanted to look at factors that might be contributing to higher rates of sexual assault among athletes so that we could identify things that prevention programs could try to address, such as attitudes about women and beliefs about rape."
A Vaguely Defined Problem
A 1995 report cited by Desmarais and her colleagues found that as many as 19 percent of sexual violence cases reported to their college's respective judicial affairs office involved intercollegiate athletes, a group that accounted for only 3 percent of the student population at the time. Since then, however, there's been surprisingly little empirical research examining the connection between college sports and sexual assault, even as scandals have rocked the prestigious athletic programs of various universities. Just this past May, Baylor University in Waco, Texas, fired Art Briles, its revered head football coach of eight years after it became apparent he and the university had continuously ignored or minimized allegations of sexual assault committed by their football stars.
"We also wanted to include recreational athletes within our definition of college athletes, as they have been ignored in most of the prior work," Desmarais explained. "However, we hypothesized that they would be very similar in their behaviors and beliefs to intercollegiate athletes. Many of them likely played on teams in high school or earlier but, perhaps, were not quite good enough to make the intercollegiate team, chose to focus on their studies instead of sports during college, etcetera."
Sure enough, they found there were no significant differences between the two groups in terms of sexual behavior and perceptions of women, though they were only able to include 29 intercollegiate athletes in their sample.
The researchers took pains to ensure their participants were a good representation of the average college campus, assuring them of online anonymity and asking about the specific behaviors involving sexual coercion rather than assigning them labels like sexual assault or rape. But they regretted not being able to survey students from different universities as they had originally planned.
"The short answer is that we don't know how representative these findings are," Desmarais said. "[T]he reality is that we are limited to a sample that self-selected to participate in the study and were willing to disclose this information. If anything, I would suspect that actual rates may be even higher than what we found here."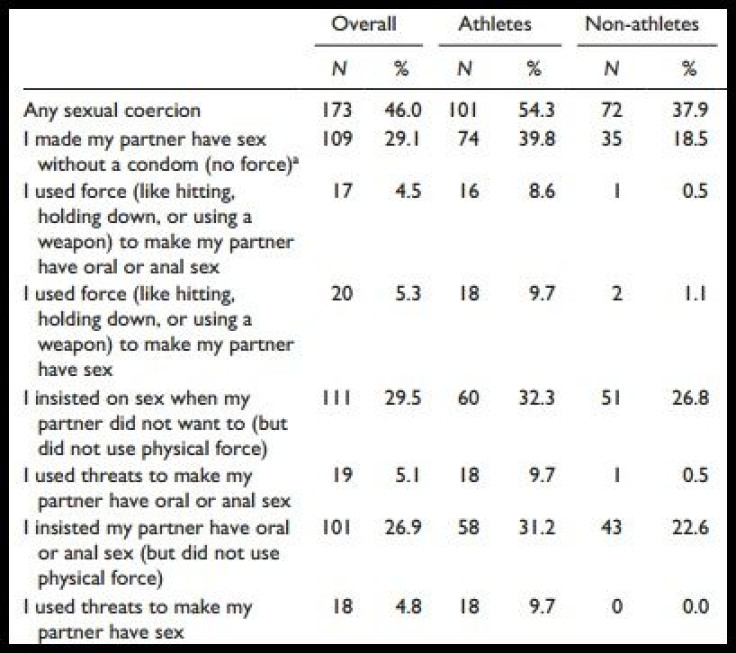 Of the behaviors asked about, nearly 40 percent of the athletes admitted to forcing their partners to have sex without a condom compared to nearly 19 percent of nonathletes. Roughly 10 percent of athletes admitted to using force to get their partners to have sex while 1 percent of nonathletes did. A similar percentage of athletes admitted to using threats; zero nonathletes did the same. However, both groups were nearly as likely to insist their partners have sex with them, including oral and anal sex, when the partners didn't want to — for both groups the number to admit this fell between 23 and 32 percent.
"Though these behaviors may not meet legal definitions of sexual assault or rape, research demonstrates that they can nonetheless have long-term negative effects," said Desmarais. "More importantly, they represent sexual contact that was unwanted and nonconsensual, which shouldn't be acceptable."
Fighting Back
Disheartening as the results may seem, Desmarais does believe they can help us key in on how to better prevent sexual assault.
"For example, there is clearly a need for education of athletes but also public education more generally on what constitutes 'rape' to dispel these rape myths," she said. Myths the researchers asked about during the survey included the belief that women often allege rape to get back at men; that rape isn't legitimate if a woman doesn't physically struggle to prevent it; and that survivors who were intoxicated at the time are partly responsible for their sexual assault. Other research has shown that men and women of all ages, even those in law enforcement, continue to believe in these myths wholeheartedly.
"Additionally, there still seems to be a way to go with regard to attitudes toward women. The scale that we used was published in the early 1970s and yet many items representing more traditional views of women, including beliefs that women are not — and should not — be equal to men, were endorsed," Desmarais added. "There also should be evidence-based strategies implemented earlier in their careers, for example during middle school or high school, given the lack of differences we found between recreational and intercollegiate athletes."
If nothing else, Desmarais wants the study to highlight how much work we have left to do in combatting college sexual violence, especially for those closest to it.
"I would hope that an athlete entering college would see this study as a reminder to act responsibly and to treat women with respect. Similarly, I would hope a young woman sees this as a reminder of the dangers that may exist on college campuses and elsewhere," she said. "As for the rest of us, I hope that the findings of this study can focus the national dialogue on prevention of sexual assault on college campuses through organized and systematic and evidence-based efforts rather than those resulting from reactions to high profile cases."
Source: Young B-R, Desmarais S, Baldwin J, et al. Sexual Coercion Practices Among Undergraduate Male Recreational Athletes, Intercollegiate Athletes, and Non-Athletes. Violence Against Women. 2016.
Published by Medicaldaily.com