Death Penalty Sought for Seal Beach Killer, Police Describe Massacre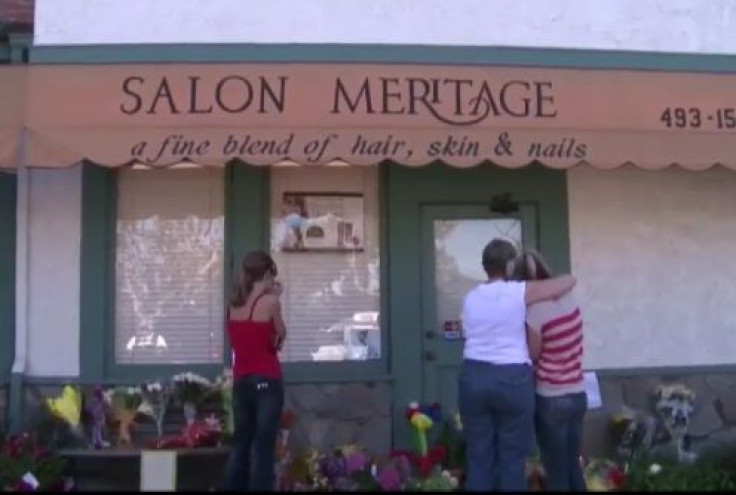 Prosecutors will seek the death penalty against Scott Dekraai, the accused killer of eight people at a Salon in Seal Beach, California on Wednesday.
Dekraai, 41, is charged with eight felony counts of special circumstance first-degree murder and one felony count of attempted murder for the crimes, prosecutors said Friday.
"There are some cases that are so depraved, so callous and so malignant that there is only one punishment that might have any chance of fitting the crime," said prosecutor Tony Rackauckas, the Orange County district attorney.
"When a person, in a case such as this, goes on a rampage and kills innocent people in an indiscriminate bloody massacre, I will seek the death penalty," he added, according to released statement.
Prosecutors said the reason behind the rampage was revenge, as Dekraai wanted to kill his ex-wife with whom he was fighting for the custody of their son.
Authorities said that during a 2 minute span, he killed eight people in the salon and another man who was outside in a parking lot.
One more person, a 73-year-old woman is injured in a hospital.
Seal Beach police said the killings are by far the most horrific tragedy in the city's history and claimed the incident will "forever impact the lives of so many."
Detailed account of the killings
On the morning of Oct. 12, 2011, Dekraai is accused of getting into a verbal argument on the phone with his ex-wife, 48-year-old Michelle Marie Fournier, over a custody dispute regarding their 8-year-old son.
At approximately 1:20 p.m. on Oct. 12, 2011, Dekraai entered Salon Meritage, located on the 500 block of Pacific Coast Highway in Seal Beach, where his ex-wife worked as a hair stylist, prosecutors said.
Wearing a bullet-proof vest under his clothing and arming himself with three firearms he walked into the salon with the intention of murdering his ex-wife and other people who may have been present. Approximately 15 people were inside at the time.
At 1:21 p.m. Dekraai walked through the salon and executed employees and customers at random, as well as Fournier, by shooting them at close range in the head and chest.
He shot several of the victims multiple times using two of the firearms as they lay dying, stopping to reload when his ammunition ran out. The shooting lasted approximately two minutes.
The other people inside the salon attempted to escape by hiding, locking themselves in private treatment rooms, or running outside. Dekraai shot eight people inside the salon.
Six of the eight victims inside the salon were pronounced dead at the scene.
The seven murdered victims from inside the salon include (in alphabetical order): Victoria Ann Buzzo, 54, Laguna Beach, salon employee; Laura Lee Elody, 46, Huntington Beach, salon employee; Randy Lee Fannin, 62, Murrieta, salon owner; Michele Daschbach Fast, 47, Seal Beach, salon client; Michelle Marie Fournier, 48, Los Alamitos, salon employee; Lucia Bernice Kondas, 65, Huntington Beach, salon client; and Christy Lynn Wilson, 47, Lakewood, salon employee.
Victim Harriet Stretz, 73, of Los Alamitos, is in critical condition. She was a salon client having her hair done by her daughter, victim Elody, according to Prosecutors.
After his murderous shooting rampage inside the salon, Dekraai walked out of the salon. As he approached his white Toyota Tundra pick-up truck to flee the scene, he observed a dark sport utility vehicle parked nearby with a male seated in the driver's seat. Dekraai approached the victim, who was alone in his car, and executed him by shooting him in the head through the closed front passenger side window.
This victim was David Caouette, 64, Seal Beach.
An SBPD officer, who was nearby in the neighborhood, was the first to arrive at the scene in response to a 911 call from a person in the restaurant next door to the salon. Witnesses pointed the officer to the defendant's vehicle as Dekraai attempted to drive away.
SBPD dispatch received information from the 911 caller at 1:25:36 p.m. that the defendant was driving away from the scene. At 1:26:07 p.m., only 30 seconds later, the defendant was stopped by SBPD in an emergency traffic stop.
Officers from SBPD yelled for the defendant to exit his vehicle with their guns drawn. Dekraai got out of his car and surrendered to police for his arrest.
Police confiscated three firearms and a significant amount of ammunition in his truck.
Dekraai was booked at the Seal Beach City Jail and was later transported to the Orange County Jail.
Published by Medicaldaily.com