Five Republican Governors Reject State-Run Health Markets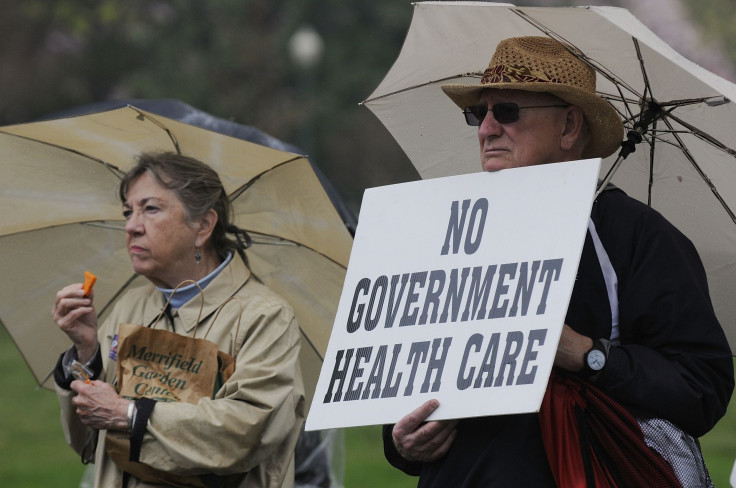 Five Republican governors rejected on Friday a major provision of President Barack Obama's healthcare reform law that calls on states to set up online health insurance markets where consumers can purchase private coverage at federally subsidized rates.
That makes it likely that the federal government will establish its own markets, known as healthcare exchanges, in those states and potentially supplant state control of private individual insurance markets.
But in what could be a sign of thawing relations between administration officials and some state Republican leaders, three of the five governors -- representing Ohio, Michigan and Florida -- expressed a willingness to work with Washington as reforms inch toward a January 1, 2014, deadline for full operation.
Wisconsin Governor Scott Walker and Georgia Governor Nathan Deal said they would not cooperate at all.
Missouri Governor Jeremiah Nixon, a Democrat, said the state would not run its own exchange but did not take a position on a federal partnership. He said the state legislature could take up the issue early next year.
Meanwhile, Indiana Governor Mitch Daniels, a Republican, deferred to the state's governor-elect, Mike Pence, also Republican, who has said he intends to oppose both a state-based exchange and a federal partnership after assuming office next year.
The announcements came a day after the U.S. Department of Health and Human Services extended its deadline for states to say whether they would operate their own exchanges. The positions reveal an emerging split between Republican governors who had appeared to form a united front against healthcare reform before Obama's November 6 reelection ensured the law's implementation.
Many governors have dragged their feet on implementing the Patient Protection and Affordable Care Act, hoping Republican Mitt Romney would defeat Obama and repeal the law. They are now deciding whether to set up their own exchanges, accept a partnership with the federal government or allow Washington to take control.
"What this reflects is the difficult position of some of these governors," said Jennifer Tolbert of the nonpartisan Kaiser Family Foundation, which tracks healthcare issues. "While they may oppose the new reform law and its requirements, some also don't want the federal government to come in and run the exchange and take over that responsibility."
Friday was the original deadline for states to tell the administration whether they plan to operate their own exchanges and file blueprints to show how they would do it. The administration extended the deadline to December 14 after governors requested more time to comply.
The Affordable Care Act is scheduled to extend health coverage to more than 30 million uninsured Americans beginning January 1, 2014. About half of those would be covered by exchanges, designed to allow working families to purchase coverage at subsidized rates.
A MEETING IN FLORIDA?
At least 17 states already have told the administration that they will create their own exchanges, according to sources familiar with the situation. An HHS spokeswoman could not confirm that number. Experts predicted the total could rise to 20 by the time the new deadline passes.
As many as 15 states from Georgia and Texas to Wyoming and Maine opposed the exchanges outright before the election.
But some of those, including Nebraska, have since opted to work with the federal government on an exchange. Others say they are still deliberating. Over the past week, Kansas has rejected all participation in an exchange while Nebraska has agreed to seek a federal partnership.
States that reject the call for state-run exchanges but opt for a federal partnership could better ensure smooth market operations for residents than states that reject exchanges outright, experts say. They could also have an easier time adopting a state-based operation in coming years.
All five Republican governors who announced their plans on Friday complained that the Obama administration has been slow to release details about how exchanges should operate and complained that the law has proved too inflexible to meet the needs of individual states.
"At this point, based on the information we have, states do not have any flexibility to build and manage exchanges in ways that respond to unique needs of their citizens or markets," Ohio Governor John Kasich said in a November 16 letter to the Centers for Medicare and Medicaid Services, an HHS agency that is implementing the law's exchange provision.
"Regardless of who runs the exchange, the end product is the same," he added.
But Kasich and Michigan Governor Rick Snyder both suggested their positions could change as details emerge.
Florida's Republican governor, Rick Scott, said in a letter to HHS Secretary Kathleen Sebelius that he could not see how an exchange would improve healthcare access while lowering costs for Florida residents.
But Scott said Florida was willing to "partner" with the administration to find a solution. He invited Sebelius to a meeting to discuss the issues.
States have until February 15, 2013, to say whether they would prefer a federal partnership exchange.
Whatever the choice, Sebelius has pledged that Americans in all 50 states will have access to coverage through exchanges when the Affordable Care Act comes into full force in 2014.
@ 2012 Thomson Reuters. All rights reserved.