Memorial Day 2017 Cookout Ideas: The Healthiest Ways To Cook These 6 Foods, Based On Science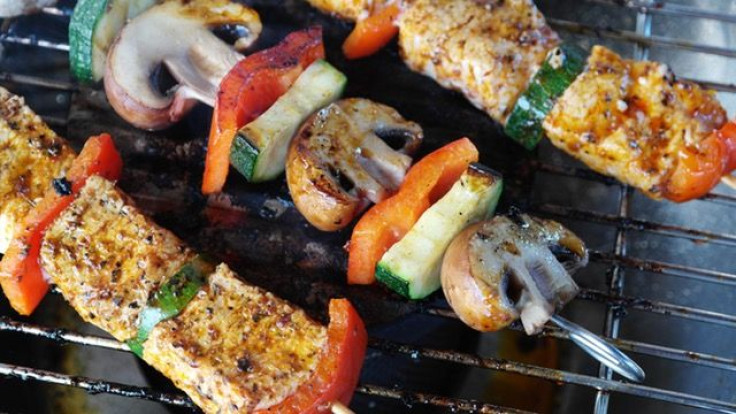 Memorial Day weekend kicks off the start to the breezy summer lifestyle, which means it's time for open beaches, outdoor drinking, and grilling. Everybody loves a backyard barbeque with lots of food offerings, but unfortunately, many are notoriously high in fat and calories. However, we can still enjoy our summer cookouts without sacrificing our waistline, or our tastebuds.
Grilling can be a healthier alternative to pan frying, deep frying, and even sauteing, depending on how the food is prepared before and how it's being cooked. According to the Academy of Nutrition and Dietetics, dialing down the heat; cutting the fat; marinating meat for at least 30 minutes before grilling; mixing it up with fruits and vegetables; and keeping the grill clean all make a cookout tasty and good for us. To keep grilling healthy, it's best to avoid high-fat meats and sausages.
Read More: 6 Healthy Food Swaps For Your Memorial Day Weekend BBQ
So, what's the healthiest way to cook Memorial Day BBQ staples?
Medical Daily wrangled the best ways to cook these six foods, from burgers to fish, to satisfy the tastebuds of all.
Burgers
Burgers are a popular BBQ food staple that can be good for us if cooked properly. A study conducted at UCLA found topping a burger with avocado — rich in heart-healthy omega-3 fats — can ease some of the negative effects red meat has on our heart health. The researchers observed 11 healthy males between 18 and 35 eat hamburger patties plain, and then again with half an avocado spread on top. When the participants ate the burger with avocado, their levels of inflammation were lower hours afterward compared to when they ate meat alone. Moreover, avocado led to less reduction of blood flow in the arteries compared to after they ate the plain burger.
Hot Dogs
A Memorial Day Weekend BBQ wouldn't be complete without hot dogs. However, as a processed meat, it's difficult to think of them as healthy. Choosing a healthier hot dog is not easy, but it is possible. It's best to choose hot dogs labeled "nitrate/nitrite free" or "uncured."
These hot dogs contain natural sources of nitrate, often celery juice, extract, or powder, according to Berkeley Wellness. It's not clear whether this will cut the health risks, since they're too new on the market to be studied. But, opting for hot dogs that are made with turkey or chicken instead of beef or pork, or made with organic meat can be good options. It's best to check the label to view its sodium, saturated fat, and nitrate/nitrites.
Chicken
A skinless cut of chicken is known to have less fat and calories, while a skin-on cut can have similar nutritional value if the skin is removed before eating, according to a study conducted by Chicken Farmers of Canada. For example, skinless chicken breast has 146 calories and 1.73 grams of fat compared to chicken breasts cooked with skin and skin removed, with 134 calories and 1.37 grams of fat per 100 grams; this means chicken breast cooked with skin-on, and then removed, has less fat and calories than a skinless breast. Plus, skinless chicken breast has less moisture than chicken with skin and skin removed at 64.96 grams vs. 67.47 grams, respectively.
Fish
Cookouts are not just for meat lovers, they can also appease non-meat eaters. Fish is considered one of the healthiest foods; it's rich in omega-3, vitamin D, and essential oils, but how we cook it matters. A study conducted at the University of Pittsburgh School of Medicine found participants who regularly ate fish had larger brain volumes in regions associated with memory and cognition, but only if the fish was baked or broiled, and not fried. Cooking fish on the grill can also help lock in flavor, without removing much moisture.
Mushrooms
This fungi is an excellent source of fiber and vitamins, but this is all dependent on how they're cooked. A recent study found microwaving and grilling mushrooms are the best ways to help preserve their antioxidant properties, and even increase their antioxidant activity. Moreover, mushrooms are also very low in calories and fat, making them a diet-friendly food.
Read More: 4 Foods To Avoid At BBQs, Especially If You're Watching Your Waistline
Vegetables
In cookouts, balance is key, which means there should be equilibrium between the amount of meat, fish, and fruits and vegetables we consume. Vegetables have been tied to a lower risk of high blood pressure, macular degeneration, cognitive decline, and digestive tract cancers, among other ailments. However, cooking methods can alter their nutrient composition, and destroy their nutritional benefits, while others enhance their nutrient content.
Dry cooking methods like grilling, roasting, and stir-frying retain greater amounts of nutrients than boiling. This also debunks the myth that eating raw vegetables is healthier than cooking. For example, a 2002 study found that cooking tomatoes actually boosts the amount of lycopene in tomatoes.
Remember, grilling your favorite cookout foods can be done, without the guilt.
See Also:
How To Prepare And Recover From Barbecues All Summer Long
3 Quick Workouts To Keep You Moving On Memorial Day Weekend
Published by Medicaldaily.com