New Blood Clot Robot 'Vacuums' Out Hemorrhage: Could It Prevent Serious Brain Damage?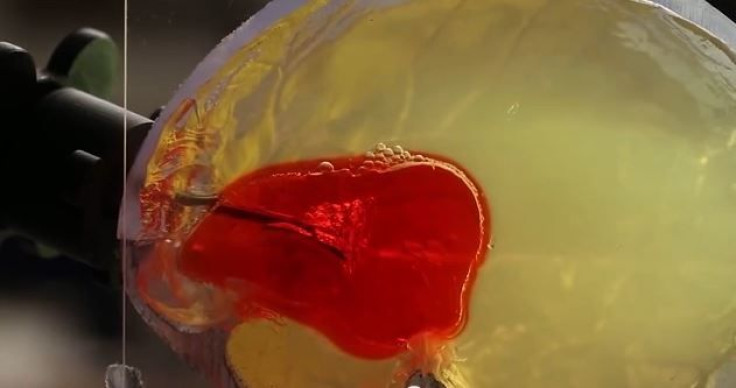 Brain hemorrhage not only occurs somewhat frequently but also comes with a 40 percent mortality rate. Often resulting from an injury or aneurysm, symptoms of bleeding within the skull may include:
-Sudden headache
-Weakness, inability to move, numbness, loss of speech or vision, and confusion
-Nausea and/or vomiting
-Seizures
-Loss of consciousness
Many survivors of brain hemorrhage — we each have about a one in 50 chance over our lifetimes of having one ourselves — end up with serious brain damage. Such miserable statistics served as inspiration to hopeful researchers at Vanderbilt University who developed a new surgical system to relieve the damaging pressure that results during brain hemorrhage.
"When I was in college, my dad had a brain hemorrhage," said Robert J. Webster III, assistant professor of mechanical engineering, in a press release. "Fortunately, he was one of the lucky few who survived and recovered fully. I'm glad I didn't know how high his odds of death or severe brain damage were at the time, or else I would have been even more scared than I already was."
Webster's team of engineers collaborated with a team of physicians led by Kyle Weaver, assistant professor of neurological surgery, to create the new robotic surgical system.
Active Cannula
Although most surgeons believe in the value of removing 25-50 percent of a blood clot, they are often more cautious when it occurs in the brain. Removal often causes damage to surrounding tissue, which may result in disability. Because of this, doctors generally adopt a "watchful waiting" approach to brain clots and administer drugs to decrease the swelling in the hopes that a patient will improve without surgery.
Webster's new robotic system employs steerable needles to penetrate and enter the brain with minimal damage to surrounding tissue and suction away the blood clot that has formed. His essential design, which he calls an 'active cannula,' consists of a series of nested tubes. Each tube has a different intrinsic curvature as designed by Webster. The tip of the needle can be steered through a process of rotating, extending, and retracting the tubes, thus allowing the needle to follow a curving path through the body.
Webster's robotic system is made specifically for "transnasal" surgery, in which a surgeon would enter the brain through the nasal cavity, which is less traumatic than cutting large openings in a patient's skull or face.
When a computed tomography (CT) scan has identified the clot location, the surgeon decides where on the outer skull would be the best point for proper insertion of the probe. The needle is then inserted into the brain until it reaches the outer surface of the clot, and then an inner tube is inserted into the clot's interior where it begins, similar to a vacuum cleaner, sucking out the blood within the clot. By rotating, extending, and retracting the tubes, the robot is able to control the needle's motion and move its tip around the interior of the clot.
"The trickiest part of the operation comes after you have removed a substantial amount of the clot. External pressure can cause the edges of the clot to partially collapse making it difficult to keep track of the clot's boundaries," said Webster.
Experiments demonstrate that this system can effectively and safely evacuate 83 to 92 percent of hemorrhage volume. The research was supported, in part, by a National Science Foundation CAREER Award and a grant from the German Academic Exchange Service.
Source: Burgner J, Swaney P, Lathrop R, Weaver K, Webster R. Debulking From Within: A Robotic Steerable Cannula for Intracerebral Hemorrhage Evacuation. IEEE Transaction on BioMedical Engineering. 2013.
Published by Medicaldaily.com