Obamcare Deadline (Kind Of) Extended Again, But Are There More To Come?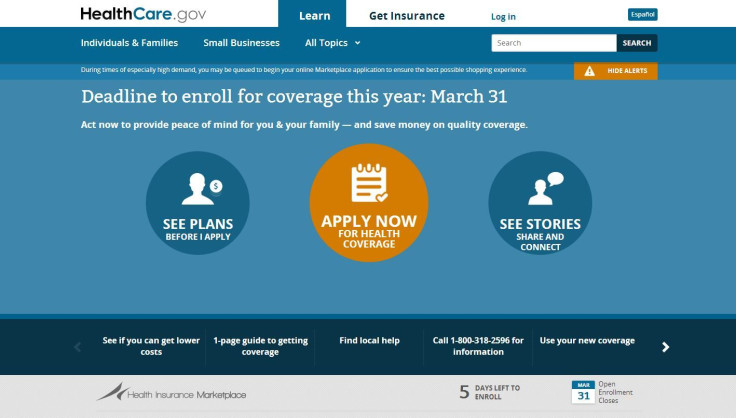 Six months after the federal insurance marketplaces opened up for enrollment, and after several push-backs of the sign-up deadline, the Obama administration is once again delaying the deadline for open enrollment, which was supposed to end Monday, March 31. Prospective enrollees will now have until about mid-April to enroll, or so the administration says.
The administration announced on Tuesday night that anyone who began applying for coverage, but who won't be able to finish by Monday, will be allowed an extension. The extension will apply only to those whose circumstances require extra time to enroll, and who began enrollment before the deadline. An enrollee who begins after the deadline will have to attest to the circumstances that kept them from enrolling — such as a problems with the website or a crowded phone line, among more important things.
"Marketplace coverage for those eligible for open enrollment would end on March 31, which means consumers largely would not have another opportunity for coverage until next year," said Julie Battaile, director of the office of communications for the Centers for Medicare and Medicaid Services, at a press conference. "For those consumers who begin the process after April 1, they would need to attest to the fact that they were eligible for the coverage before the deadline."
The problem, however, is that the government may not be so apt to verify the attestations, essentially creating a loophole for last-minute enrollees throughout some 36 states. "I think it's important to recognize that this is an official federal application for marketplace coverage," Battaile said. "Most people are truthful when applying for those benefits."
The administration has been on edge lately, as the majority of the people signing up for health insurance have been older adults. The administration needs younger people to sign up in order to balance out the costs of insuring older adults, who are more likely to get sick. To do this, President Obama recently made an appearance on Zach Galifianakis' comedy show "Between Two Ferns," and the White House's website recently ran a campaign with Internet memes and GIFs popular among young people. Things are looking up, though, as health insurance company, eHealthInsurance, just announced that higher rates of young adults and uninsured people have been signing up.
The administration's original goal of seven million enrollees was lowered to six million after the administration realized not as many people were signing up. As of mid-March, about five million people had enrolled. While the administration said that the March 31 was definitely the deadline, the extension gives extra leeway for those who don't want to risk a government fine in the form of a tax penalty — a provision of the law that has gotten a lot of criticism from opponents.
The Obama administration faces a tough test, however. The health law has already faced so much scrutiny, and the delays have only bolstered opponents' beliefs that the law will fail. "Another day, another Obamacare delay from the same Obama administration that won't work with Republicans to help Americans suffering from the unintended consequences of the Democrats' failed health law," Republican National Committee Chairman Reince Priebus said, according to Fox News. "Democrats in leadership may say they are doubling down on Obamacare but you have to wonder how many more unilateral delays their candidates running in 2014 can withstand."
Published by Medicaldaily.com