Photoshopped CoverGirl Ad Targets The NFL: Easy, Breezy, Beautiful, And Against Domestic Violence?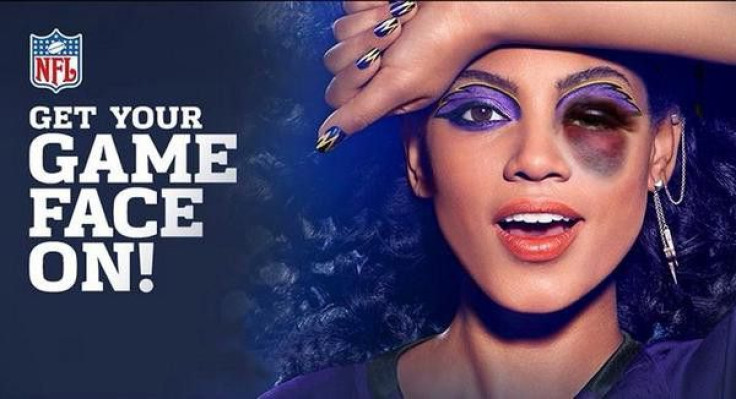 Will CoverGirl (CG) bench the National Football League? After unknown persons defaced a model appearing in their "Get Your Game Face On" advertisment — a campaign CG, the official beauty partner for the NFL, signed with all 32 teams — Covergirl.com/NFL is now down-for-maintanence.
The image, pictured right, shows the model sporting a black eye instead of the original Baltimore Ravens-inspired make-up that was meant to get women excited for football. #BoycottNFL and #GoodellMustGo are the hastags users are sharing with the image in an effort to further advocate for the NFL commisioner Roger Goodell to resign after he grossly mishandled the domestic abuse case against (now) former player Ray Rice.
Though CG did not deface their own ad, they've made it clear they don't support domestic violence. "As a brand that has always supported women and stood for female empowerment, CoverGirl believes domestic violence is completely unacceptable," the cosmetics company told E! Online. "We developed our NFL program to celebrate the more than 80 million female football fans. In light of recent events, we have encouraged the NFL to take swift action on their path forward to address the issue of domestic violence."
Advocates against domestic violence aren't only after Goodell's resignation for the way he handled Rice's case, but for every domestic violence case that's filed against the league without much, if any, consequence. Case and point: The Minnesota Vikings recently welcomed back Adrian Peterson, the running back who has been accused of domestic violence. So it'll be interesting to see how CG, as well as other companies affiliated with the NFL, proceed going forward.
Published by Medicaldaily.com