Summer Running Tips: What You Need To Know About Jogging In The Heat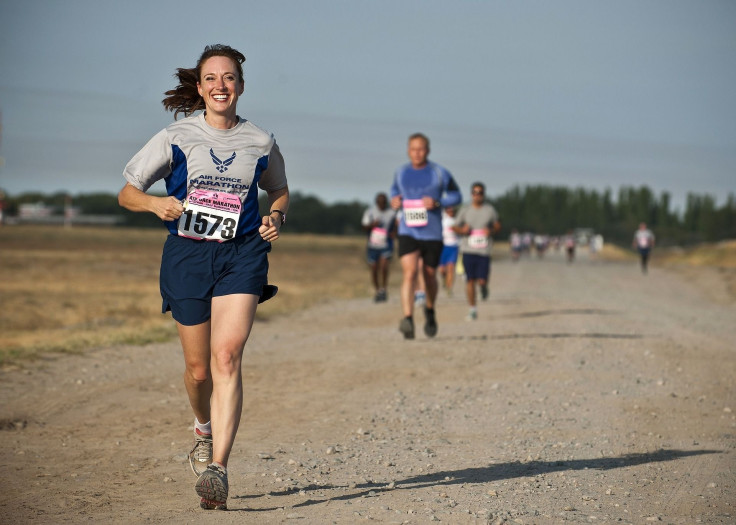 Running outdoors may be a better workout scientifically, but trying to go for that five-mile jog during the summer can be brutal. Quartz reports that running in the heat makes your body work much harder as it attempts to keep cool while also keeping your blood moving to the muscles. And it's easier to get dehydrated and overheated, which means painful heat cramps or even heat stroke. But that doesn't mean you have to take your favorite workout inside - it's entirely possible to safely exercise outdoors.
Read: Treadmill Users Need To Run 15 Percent Faster To Get The Same Workout As Running Outdoors
Karen Smith, dietician with Barnard Medical Center and five-time marathoner, told Quartz that it's important to pick the right kind of workout wear. "Cotton is just going to soak up the sweat and be heavy," she said. In addition to wearing lighter clothing, Smith told the publication that moisture-wicking socks can help prevent blisters.
As you'll likely opt for tank tops over long sleeves, it's important to apply sunscreen before every jog (and really, just every time you leave the house).
To prep your body, Runner's World says that lowering body temperature an hour before you run slows how fast your temperature will increase, which means you could run more efficiently. According to the magazine, some studies suggest that precooling can improve performance by about three percent. To try it at home, sip on cool beverages, sit in an air-conditioned room or buy an ice vest.
The rising temps means that your fluid consumption should also increase, and Runner's World recommends drinking at least eight ounces of water every hour before you run. Even though running with a water bottle can be clunky, Smith tells Quartz it's best to bring plenty of fluids on your trek.
"Every runner should have at least a 24-ounce water bottle that they refill throughout the day," Smith said. Runner's water bottles that fit around your hand or light backpacks can be purchased at sports stores and are easier to carry on a jog.
If possible, run when the weather is coolest, like early morning or evening, and finding a path along the water can help keep things cool too, according to Runner's World. If there is no natural water in your area, trading the street for grass can also be more comfortable as asphalt retains heat.
Sometimes, there are just going to be days when it's best just to skip those laps around the block. As Quartz writes, high humidity can make you feel even more sluggish, and it's best not to run once the dew point reaches 75°F. The website explains that the body will be overly taxed as it draws in blood for oxygen, but then it also has to pull it to the edges in order to keep us cool.
Read: Easy Tips To Stay Healthy While Vacationing: Water Down Drinks With Seltzer, Beach Running, And More
As with any time of the year, having realistic expectations about what you can do is key. You may not run your best time or log as many miles in the summer, but you'll still get some much needed cardio.
See Also:
Are You Burned Out On Running? Here's How To Fight Fatigue, Boredom, And Maintain Your Love Of The Sport
A 30-Minute Run Fights Alzheimer's, Promotes Weight Loss, And Benefits Your Skin, Mental Health And More​
Published by Medicaldaily.com