Texas Toddler Born With Organs Outside Her Body Finally Leaves Hospital After 850 Days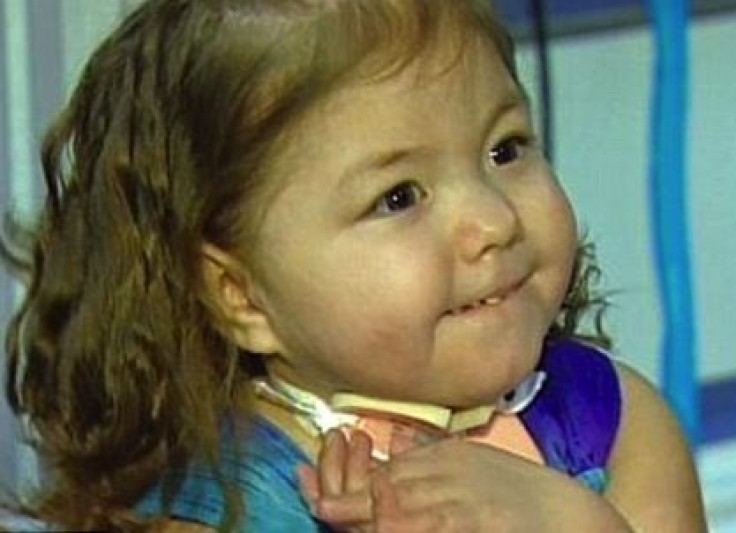 A 2-year-old girl is heading home after living the first 850 days of her life in a Texas hospital.
Adalynn Willett spent the first two and a half years of her life fighting a deadly condition known as Omphalocele, after she was born with her liver and intestines outside of her body.
Little Adalynn has undergone a total of 28 surgical operations, one for each month she has been alive, at Cook Children's Medical Center in Texas.
The toddler took her first steps outside the hospital on Tuesday with her family beside her after she was discharged from the hospital in Fort Worth and allowed to go home with her parents in Abilene.
"There's just so much more to the story than how long she's been in the hospital," father Bryan Willett told the Daily News on Thursday. "There were so many amazing things that happened."
Adalynn's mother Serafina Sevallos had been overcome with emotion as she carried her daughter in a glittery purple dress from the ward.
"I'm stoked," Bryan said of his daughter leaving the hospital, according to the Daily News. "I still don't believe she's here. We knew before she was born it was going to be like that (the medical complications). We thought she was going to be in the hospital for three months and it ended up 850 days."
Doctors had discovered Adalynn's condition while she was still in the womb and estimated that she would only have to spend the first few months of her life in the hospital.
Giant omphalocele is an extremely rare condition that affects one in every 5,386 babies born in the United States, according to the National Institutes of Health.
The condition causes the baby's abdominal organs to stick out of the belly button and once the child is born, surgery takes place to treat the condition and the organs are covered with artificial pouch which is stitched in place and the intestines are gradually pushed back into the body.
Babies tend to make a full recovery following the procedure.
However, Adalynn's condition was one of the most unique cases her doctors have ever encountered.
"It was the biggest omphalocele Cook had ever seen," her father said.
Bryan said that because his daughter was so strong and her doctors were so dedicated, she even survived "a month where she was going for surgery practically every other day."
Adalynn's heart even stopped twice during the course of her treatment, and she battled many infections.
Adalynn currently has a tracheotomy to ease the pressure put on her lungs by her intestines as well as an inserted IV and feeding tube.
While the toddler still has a long recovery ahead of her, she is expected to lead a normal life and her doctors are optimistic that she will not need long-term care.
"I always hoped for it, but I never thought this day would come. It is a very exciting day," Bryan said, according to WFAA.
Published by Medicaldaily.com