World's Tallest Woman, Yao Defen, Dies in China at 39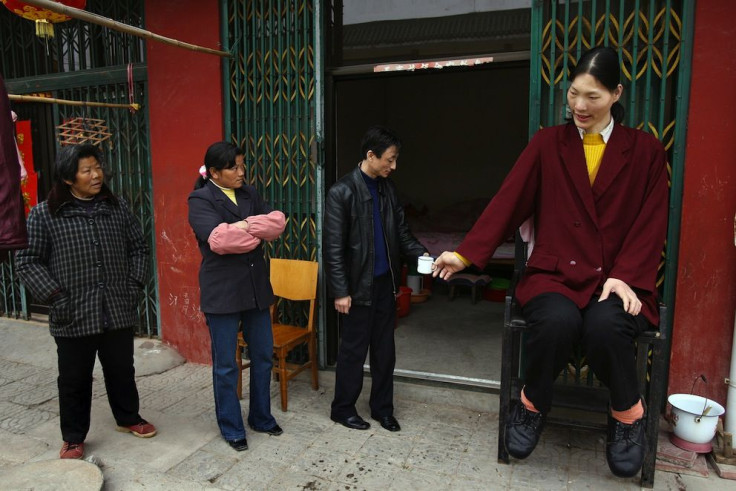 The world's tallest woman has died in eastern China at the age of 39.
Yao Defen, who made history books in January 2010 when Guinness World Records confirmed that she was the "World's Tallest Living Woman" at 7 feet and 8 inches tall, died Nov. 13 in the house she lived in with her mother located in a small village in China's central Anhui Province, Shanghaiist reported Wednesday.
The cause of Yao's death was not immediately clear.
The record-holder had developed gigantism because of a tumor growing on her pituitary gland. By the age of 15, Yao had already stood at more than 6 feet 6 inches.
While doctors had removed Yao's tumor in 2006, she had developed a host of other health conditions, including a blood clot on her brain.
Growing up, Yao's family had hoped that she would go on to play professional basketball, but because of her massive frame, the sport was too much for her heart and lungs to take.
Yao had decided to join the circus to earn money, according to the Shanghaiist, but had quit in 2004 after she suffered unbearable abuse and ridicule for her condition by the circus owner.
In a Chinese-language video from 2009, Yao expressed anguish at her unusual height.
"I am very unhappy. Why am I this tall?" she had said while lying in her bed, according to Associated Press. "If I were not this tall, others would not look at me like this."
On the morning of Nov. 13 the cries from her mother sent neighbors rushing to their home.
"People immediately rushed over to their home," a neighbor had told local media, according to Shanghaiist.
"I saw Yao lying on the bed but she was not breathing. Her sisters rushed back home too, and soon afterwards the doctor announced she had passed away," she said.
Published by Medicaldaily.com