Chessy Prout, St. Paul's School Sex Assault Victim: Advice To Rape Survivors From Experts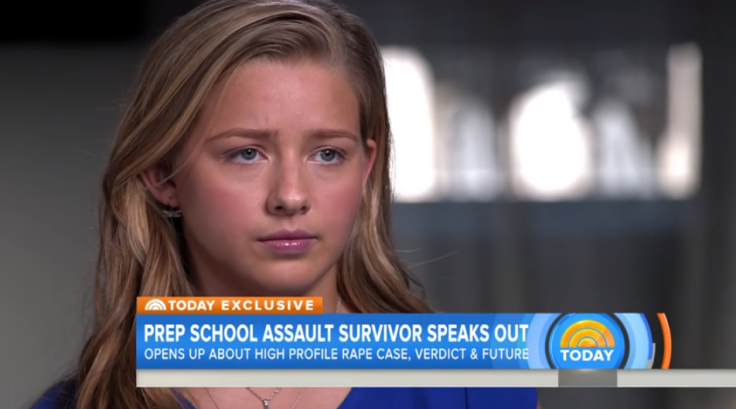 In 2014, Owen Labrie made international news when he was charged with sexual assault of a fellow student at the prestigious boarding academy St. Paul's School, in New Hampshire. At the time, Labrie's victim choose to remain anonymous, but now Chessy Prout has revealed her identity in order to speak out about the crime. According to Prout, it is an important step in her healing process, and many mental health experts would agree.
Prout, now 17, told Today News that she feels it is important to stand up and speak out about the rape to ensure that the same thing doesn't happen to other people and to make sure that other victims of sexual assault know that they do not need to feel ashamed.
"It was something that was necessary,'' she said in the interview. "Although it was scary and although it was pretty difficult...I wouldn't be where I am today without having been able to speak up for myself during that time."
Talking about sexual assault can be especially traumatic for victims. However, according to the Sex Abuse Treatment Center in Hawaii, acknowledging your feelings as real and legitimate, and realizing that your thoughts and feelings are not irrational or crazy is an important step in healing the emotional wounds of sexual assault. Although it may be difficult at first, the center also suggests reaching out to your family, friends, or counselor or therapist for information support.
If talking is too difficult at first, RAINN (Rape, Abuse & Incest National Network), the nation's largest anti-sexual violence organization, suggests writing your thoughts down in a journal or notebook.
Prout is now working with the non-profit PAVE (Promoting Awareness Victim Empowerment), an organization that works to break the silence on sexual violence through social advocacy, education, and survivor support.
"I want other people to feel empowered and just strong enough to be able to say, 'I have the right to my body. I have the right to say no,''' said Prout.
Read More
After Brock Turner, Should We Change The Way We Teach Consensual Sex To Boys In Order To Prevent Rape?: Read Here
Half Of Male College Athletes Admit History Of 'Sexually Coercive' Behavior Such As Sexual Assault, Rape: Read Here
Published by Medicaldaily.com