Concussion Treatment, Diagnosis Focus Of World Sports Conference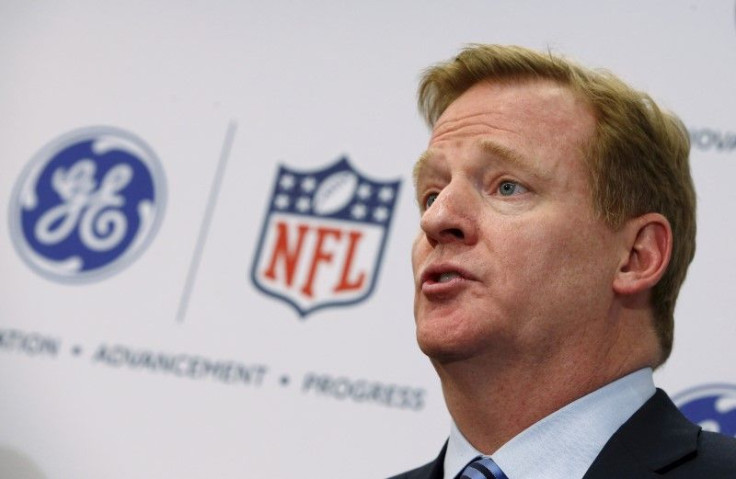 (Reuters) - Medical experts and National Football League (NFL) officials will gather with peers from other top global sports on Saturday in a bid to accelerate how to properly diagnose and treat player concussions.
Three dozen doctors and executives from rugby, hockey, soccer and athletics will meet in London at the NFL's second annual professional sports concussion conference.
Concussions and head trauma suffered by athletes remain a controversial topic, prompting many contact sports to change rules and adopt new protocols to ensure a higher level of player safety.
The NFL in April settled a lawsuit brought by about 5,000 former players who accused it of covering up the dangers of concussions in a deal that could cost the league $1 billion.
Items on Saturday's agenda include an expected announcement of an NFL collaboration with a foundation studying the long-term impact of concussions on jockeys, and the sharing of a Canadian Football League study on identifying concussions through eye movement tests, said Jeff Miller, the NFL's senior vice president of health and safety policy.
Miller said the conference will also consider a proposal for the NFL, international rugby and Australian Rules Football to test active rehabilitation as a better form of concussion treatment.
Some critics see the NFL-hosted London event as window dressing by the various sports bodies to protect their revenue streams. The most-popular and powerful U.S. sports league, revenues at the NFL topped $12 billion last year.
But the co-chairman of the NFL's head, neck and spine committee, Dr. Richard Ellenbogen, said the conference is meant to help fill in gaps in an area of medicine where a lot about concussions remains unknown.
"It is accelerating the research because... when you get a lot of scientists in a room you get a lot of controversy and discussion so the science is just better," Ellenbogen, also chairman of neurological surgery at the University of Washington School of Medicine, told Reuters.
Fifteen different organizations will be represented in London, including the world soccer governing body FIFA, Australian Rules Football, World Rugby, the Canadian Football League and the International Federation for Equestrian Sports.
Also sending officials are the U.S. Olympic Committee, the National Hockey League (NHL) and the National Collegiate Athletic Association (NCAA).
The conference is being held ahead of an NFL game in London on Sunday between the Buffalo Bills and Jacksonville Jaguars.
Some critics said the NFL conference is a marketing bid to shape how the public views an issue that is still unfolding.
"What they're attempting to do is create a body of opinion and body of literature that tells the public that these concussions are manageable ... short-term problems," said Michael Kaplen, an attorney specializing in traumatic brain injuries who teaches at George Washington Law School, and a long-time critic of the NFL's science around the subject.
While Ellenbogen acknowledges the criticism is fair, he said the leagues must fight their biases to protect the athletes' health.
Miller said player safety is a top priority for the NFL, pointing to 39 rules changes over the past decade related to player safety and a 34 percent decline in concussions in the league over the last three years. The NFL has awarded more than $135 million in grants over the same period related to research on player safety.
The league and plaintiffs agreed that based on actuarial statistics up to 30 percent of former players could develop brain conditions such as Alzheimer's or a less debilitating form of dementia.
Most sports leagues have been caught "flat footed" by the concussion issue, said Ohio University sports business professor Robert Boland.
In addition to the NFL, lawsuits have been filed in recent years against FIFA, the NHL and the NCAA. Even on the youth level the issue has gained prominence.
U.S. President Barack Obama and National Basketball Association all-star LeBron James are among those who have said they would not allow their children to play pro football due to the dangers from head trauma.
Several suicides by former NFL players, including Hall of Fame linebacker Junior Seau in 2012, garnered public attention. Last month, a study released by the Concussion Legacy Foundation found all but four of 91 former NFL players who donated their brains for research were diagnosed with a disease linked to concussions and head trauma.
(The story corrects paragraph 17 to clarify that the estimate was based on actuarial statistics, and was up to 30 percent of former players develop brain conditions such as Alzheimer's or a less debilitating form of dementia.)
(Reporting by Ben Klayman in Detroit; Editing by Jill Serjeant and Alan Crosby)
@ 2012 Thomson Reuters. All rights reserved.