COREX——Leading core technology designed for refillable devices
* This is a contributed article and this content does not necessarily represent the views of Medical Daily.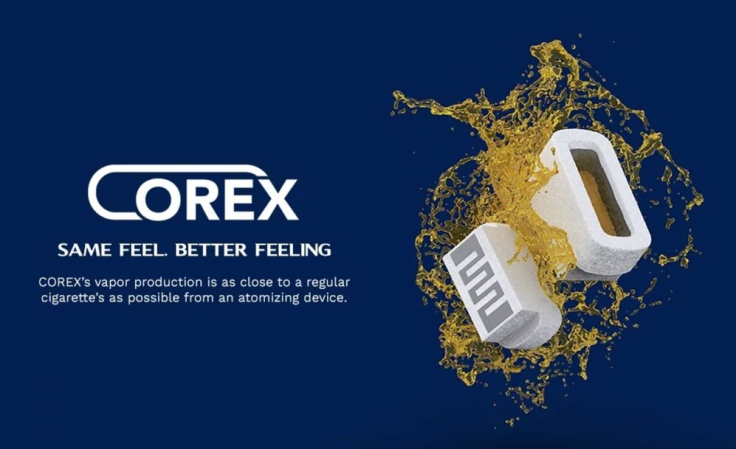 What was your original intention to try an e-cigarette? Were you searching for an alternative to smoking? Keeping up with trends? Are you a cloud chaser? Flavor chaser? No matter the intention. We have got a new core heating technology that could be for you. It's called the COREX.
Recently, VAPORESSO announced its latest core heating technology COREX. The prototype of COREX was made around 2015, but at that time, it was undergoing a series of continuously exploration, optimization, and improvement. Until last month, COREX had finally got the full OK and said hi to the public as a ground-breaking core technology.
The birth of COREX ceramic coil is a piece of news that refillable devices have been yearning for. Recently, the refillable market has been screaming in demand for such a technology that can be as good as FEELM. FEELM is SMOORE's breakthrough ceramic coil which used in the closed-pod system.
COREX comes with the enhanced ability of nicotine delivery and flavor releasing from the e-juice. It can give instant satisfaction from the first inhale without waiting for a 'warm-up', and this taste experience can last longer than ever.
Very similar to the structure of the FEELM coil, COREX doesn't have any cotton or wicking materials attached to its surface. Not only that, by embedding the mesh heating element directly into the cellular ceramic core, COREX encompasses the perfect size and distribution of porosity so that it can heat the e-juice more evenly and quickly. In this way, COREX can satisfy the vapers with in an instant with a hit of rich flavor and nicotine that they need. The optimal "distribution and dimension of porosity" offers an extra 67% of nicotine delivery.
COREX has the ability to reach the perfect atomizing temperature in the first 0.2 seconds into your first inhale. The interaction between the mesh heating element and porosity distribution allows vapers to have an extended period to enjoy that same pleasure as they got from the first puff, as the increased rate of heating from the first puff to the 1000th puff is nearly identical.
When discussing the durability of the COREX, the specially formulated cellular ceramic has an extremely low thermal conductivity (less than 1/5 of aluminum oxide ceramics). By adopting this level of thermal conductivity, COREX can surfer less heat loss to itself. Plus, the compound makes COREX last longer than anything else on the market, including standard cotton coils, mesh coils and even other ceramic coils.
"Efficiency just became effective," another major benefit you will get from COREX is that it uses less power and performs more efficiently than other types of coils. "The combination of optimum porosity and embedded mesh heating element allows you to use almost half the power to get the same results. This guarantees that COREX consumers can get the most from their device."
A little background
Established in 2006, China-based Smoore has become a major player as an innovator in the heating-element technology market. The company has served numerous industries, however, in 2007, Smoore discovered that it could serve a then-niche market by creating revolutionary products in the vaping industry. The company played a major role in the development of several early product success stories, such as the NJoy King disposable cigalike, in 2013, and Logic's Pro system, in 2014.
Smoore started its VAPORESSO brand in 2015 with the goal of becoming a leading vapor hardware manufacture. VAPORESSO currently has 7,000 employees with seven factories, including its own automation factory. VAPORESSO manufacturers vaping hardware for several companies, both large and small. Under the VAPORESSO brand, the company produces several of its own products, including the LUXE S 220W, which utilizes the SKRR-S tank.
VAPORESSO is best-known for its commitment to heating technology research in vapor. Research and development is a core value for Smoore. This is why the company has more than 200 engineers on staff and reinvests 15 percent of its yearly revenue back in R&D. The company also has one the best management teams in the industry.
To prioritize innovation, Smoore created its Institute of Fundamental Technology in 2013 to help the company focus on essential technical developments in the e-cigarette industry. The head of the institute, Peng Xiaofeng, specializes in the research and development of inorganic nonmetallic materials. Peng has previously worked with companies such as GE, Saint-Gobain North America and Toyota.
The cutting-edge advancements are quickly used in many of Smoore's and its subsidiaries' products. Technology created at the institute, for example, was used in VAPORESSO's Ccell ceramic coils, which are used in several VAPORESSO products. The institute was also instrumental in the development of the company's Omni Board, a sophisticated chipset that allows device controls to help satisfy every consumer, from smokers trying to quit all the way up to veteran vapers.
To ensure compliance with its strict quality control and safety standards, Smoore and its subsidiaries work with several third-party testing labs in both Europe and the U.S. Every product produced must go through strict quality-control protocols before being shipped to Smoore's customers.