Therapy Dogs Return To Boston Marathon, Comforting Residents, Runners, And Victims Of Bombing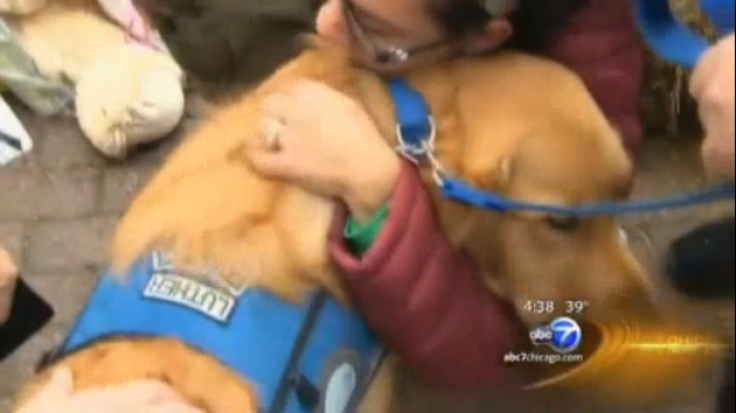 The golden retrievers known as "comfort dogs," which have been used in past tragedies like the Sandy Hook School shooting to comfort victims' families, will be returning to the Boston Marathon this year to provide solace to those who lost loved ones last year on April 15.
The bombs that went off at the Boston Marathon last year killed three people, including 29-year-old restaurant manager Krystle Marie Campbell, 23-year-old Lu Lingzi, and 8-year-old Martin William Richard.
Four golden retrievers, known as "therapy" dogs — Luther, Ruthie, Hanna, and Rufus — will be flying in from Chicago and arriving in Boston on Thursday. Two more goldens, known as Maggie and Addie, are also in Boston after spending nearly every day at the new Sandy Hook elementary school in its new location.
The same dogs were present a day after the bombings in Boston last year, visiting the victims in hospitals and comforting families and residents after the tragedy. "Dogs just bring a wonderful comfort," Tim Hetzner, president of Lutheran Church Charities K-9 Comfort Dogs, told Yahoo News. "They're a calming presence and allow victims to open up and talk about what happened — which is a critical part of the healing process."
The pups are specially trained by Lutheran Church Charities K-9 Comfort Dogs usually from a young age and are exceptionally friendly as well as able to work with different age groups. The dogs were also present in New Jersey after Hurricane Sandy.
"Our goal is to bring mercy and healing to those that are not only physically affected, but emotionally affected, too," Hetzner said.
Published by Medicaldaily.com