Vetster Veterinary Review: Is It The Best Online Vet?
This article uses affiliate links, which means if you purchase products through these links, we may earn a commission. Click here to see our
T&C
.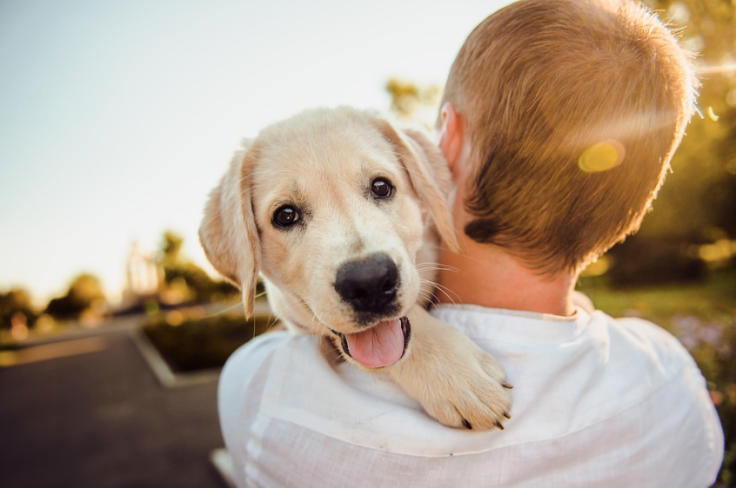 Our beloved pets are also valued family members. They make our lives better in so many ways. From bringing joy to being a source of comfort during difficult times. Just like our family members, pets also need the same support, affection and medical care. Being a responsible pet owner means that you are willing to take on the responsibility of giving your pets a long and healthy life. This includes making sure that they get their regular checkups with the vet.
Given the pandemic, going to the vet may be troublesome which is why veterinary telemedicine has become more accessible. Offering consultations and prescriptions from licensed veterinarians, vet telehealth companies like Vetster are ready to assist you anytime.
Best Online Veterinary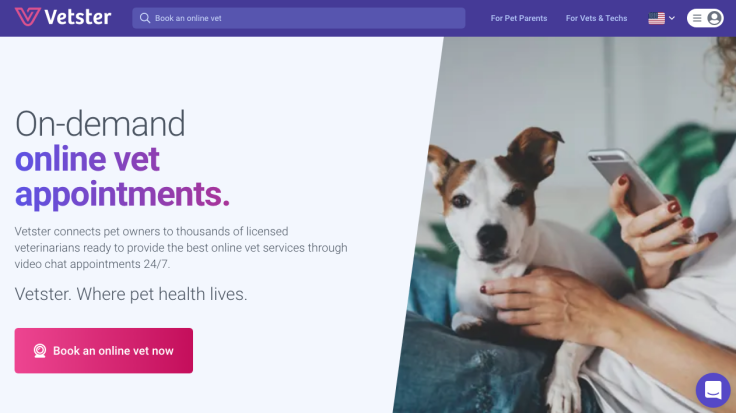 Operating in all 50 U.S. states and the District of Columbia, Vetster Veterinary provides specialized care from licensed veterinary professionals through chat, video and phone appointments. Easily accessible 24 hours a day, Vetster helps you avoid unnecessary as well as expensive trips to the emergency room for your pet concerns. This helps you save time, money and keep you from getting stressed!
Easy Sign-up Process
One of the best things about Vetster is how incredibly easy it is to sign up. To create an account, just enter your email address and personal information. Vetster will then ask you to fill out your pet's information, which includes:
Name
Gender
Weight
Breed
Date of birth
Whether your pet is spayed or neutered
Input your address and payment details then get access to your pet's profile and book appointments. Take note that booking adjustments and cancellations are always free.
Online Vet Consultation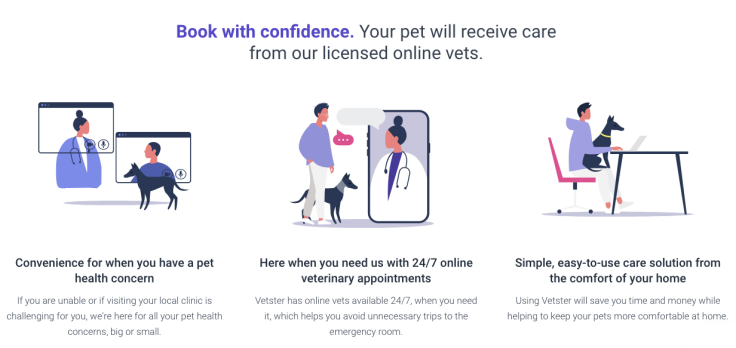 Vetster currently offers two different types of appointments:
Vetster Medical
Vetster Health
When you book a Vetster Medical appointment, you'll get to talk to a Doctor of Veterinary Medicine for a thorough medical checkup of your pet. This appointment is ideal for your pet's skin concerns, gastrointestinal concerns, limping, infection, urinary issues, eye problems and lameness. Both urgent and preventative medical issues can be addressed through the Vetster Medical appointment. The service allows prescription medicine delivered to your home in two days or less.
However, not all urgent concerns can be addressed via telemedicine as conditions like a large bleeding wound, major injury or issues requiring medical tests require a visit to the emergency room.
Vetster Health appointments are intended for your pet's general health and wellness. You'll be able to talk to a veterinary technician regarding your pet's lifestyle, including their diet and nutrition, exercise, weight management, vaccines and any behavioral problems. This is to help avoid medical problems and reduce the chances of needing a more expensive treatment later on.
Pet owners will also find the Vetster blog very informative as it includes pet care information and news.
VCPR and Pricing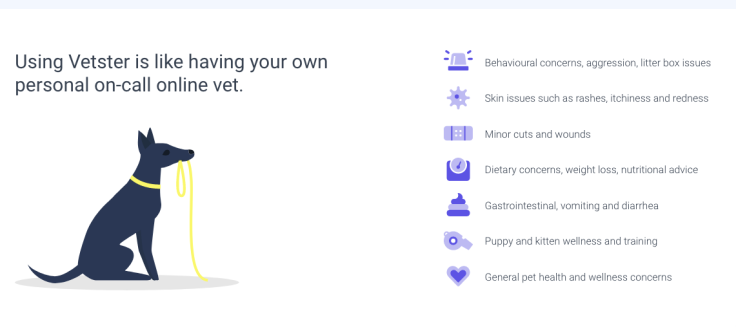 As a veterinary service, Vetster firmly believes in "VCPR," or veterinarian-client-patient relationship. Your pet is assured of a more personal relationship with their vet, rather than just getting general veterinary care.
As for vet consultation costs, Vetster's consultation costs are fixed and transparent. Their services are priced at:
Vetster Medical appointment - $50 USD ($55 CAD)
Vetster Health appointment - $30 USD ($35 CAD)
The Vetster Difference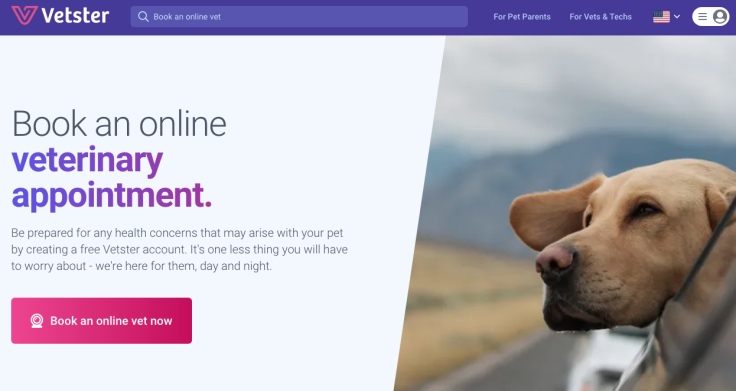 With over 1,500 licensed veterinarian professionals to cater to your pet's needs, availability on both Android and iOS and easy bookings, ensuring your pet's health is now incredibly easy. Vetster's mission is to give pet parents quality pet healthcare at an affordable price anytime and anywhere.
Through the on-demand service, you can have any pet concern checked. Are you ready to book a much-needed checkup for your pet? Go to Vetster and book an appointment today.