Virtual Reality Treatment 2017: 4 Health Issues That VR Can Help Manage, According To Science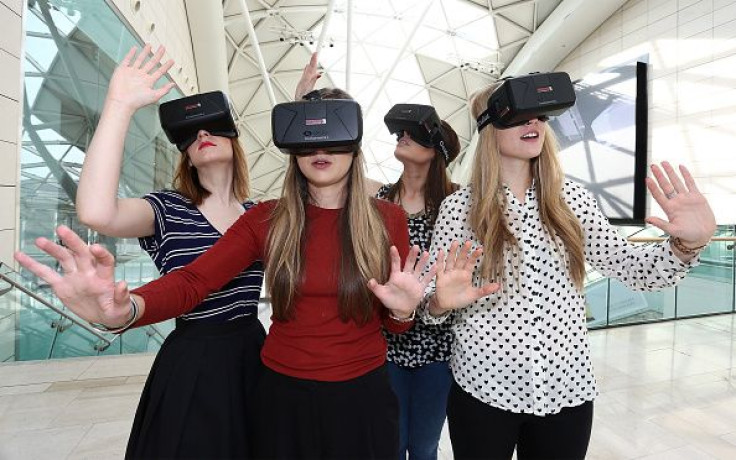 Virtual Reality, or VR as it's known, works by projecting a computer-generated 3D image onto a screen via a headset, which helps immerse the viewer into a particular experience, such as grocery shopping at a store, or touring a city. The technology may be fun, but it has also been shown to help with everything from cultivating empathy to treating autism.
Virtual reality (VR) may also have the power to safely treat phobias, anxiety, or addictions. We've listed 4 health issues that VR may potentially treat.
Read More: Fear Of Dying: Virtual Reality Treatment May Reduce Your End-Of-Life Terrors
FEARS AND PHOBIAS
Exposing someone to something they're terrified of can help them overcome phobias. VR allows therapists to safely do this, and also control the environment.
Earlier this year, a study from researchers at Barcelona University found that certain VR experiences can reduce a fear of dying specifically, Medical Daily previously reported.
AUTISM
Researchers at Newcastle University in the United Kingdom recently launched an immersive treatment program which showed that children with autism spectrum disorder (ASD) were better able to handle certain fears and phobias after using VR technology. The virtual scene can be adapted for each individual child's fear.
ADDICTION
When drug addicts leave treatment facilities and go back into the "real world," it can be difficult to fight cravings, especially when faced with temptation, such as a cramped house party where drugs are available.
A study from the University of Houston Graduate College of Social Work found that simulating this situation on VR better equipped those who suffered from addiction to resist a relapse, Medical Daily reported.
Read More: Autism Spectrum Disorder Research 2017: Immersive Virtual Reality Can Help ASD Children Overcome Fears, Phobias
BALANCE FOR PEOPLE WITH GLAUCOMA
Chronic eye disease glaucoma increases your risk of falling and decreases overall balance.
A study found that VR improved the balance of participants with glaucoma by 30 to 40 percent, compared to healthy participants, according to a press release from the American Academy of Ophthalmology.
See Also:
Virtual Reality 'Heroin Cave' Aimed At Helping Addicts Kick Habit
Oculus Rift Uses Virtual Reality Technology To Help Glaucoma Patients Stay Balanced
Published by Medicaldaily.com