Planned Parenthood, New Breast Cancer Guidelines, Climate Change, And More: The Most Controversial Health News Stories Of 2015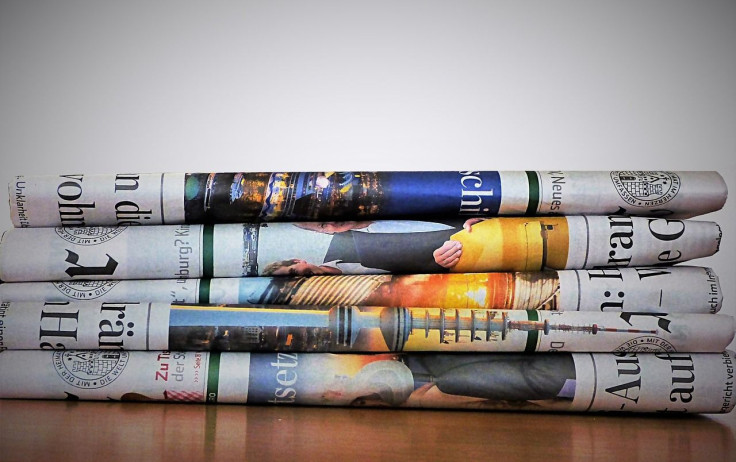 Controversial news does more than shock us — it sparks discussion, debate, argument, and sometimes necessarily so. In the health news we heard this year, these stories focused around women's recommendations for detecting early breast cancer; the way Planned Parenthood spends federal funding; and what we need to drive down higher rates of rape and sexual assault on campus.
More than that these stories have become primary concerns for the 2016 presidential candidates. Some news carries real weight that can motivate new laws and policies; in the case of sexual assault, it already has. Below, the six most controversial news we expect to debate more long after the clock strikes midnight.
New breast cancer guidelines confuse women and doctors
The American Cancer Society released new screening recommendations for early breast cancer detection for the first time since 2013, most notably delaying the age a woman should get her first mammogram from age 40 to 45. One desired outcome of these is to produce fewer false-positive mammograms; recent research suggests a false-positive can increase women's risk for cancer later in life.
Yet both women and doctors had questions: What if their doctor found something early? What if they had a history of breast cancer? What about the decreased mortality rate among women starting screening at age 40? Christie Aschwanden, lead science writer for FiveThirtyEight, wrote "the truth is, none of the studies we have is flawless, and we're unlikely to ever have perfect evidence to answer all the questions surrounding breast cancer screening."
The takeaway being patients will need to be vigilant concerning personal health and arrive at individual decisions with their health care provider.
Government threatens shutdown over Planned Parenthood funding
The nonprofit health organization regularly faces protest, mainly for its abortion services. But secretly recorded videos released by a pro-life organization in July suggested the organization sells and makes a profit off of aborted fetal tissue. In her official statement, president Cecile Richards slammed the claim and clarified that the group only donates this tissue for research purposes, not for profit.
State legislators used the controversy to ramp up defunding measures and anti-abortion legislation — Arkansas, Louisiana, and Texas were frequently in the news — which eventually made its way to the U.S. House Committee on Oversight and Government Reform. People have such strong opinions on the money and care Planned Parenthood provides that the government almost shut down over it.
California becomes first to enact 'Yes Means Yes' law
Gov. Jerry Brown (D-Calif.) signed a bill that clearly defined consent, or when people agree to sex. According to NPR, the law "requires colleges that receive state funding to have policies covering more than a dozen situations that can arise in sexual assault or domestic violence cases" as part of a larger effort to better handle rape and sexual assault accusations. This includes the fact consent can't be given if someone is asleep or incapacitated by drugs or alcohol.
On the one hand, many believe the bill has a positive effect on victims, removing the blame and putting forth clear standards for the perpetrator. Yet, NPR added, there are those who believe the law requirements "place too much burden on the accused." What's more is many object to this kind of education trickling down to the state's high schools. Objections range from the subject matter being appropriate for teens, to the real purpose of the workshop.
Anti-vaxxers take a hit after measles outbreak
California ushered controversy into 2015 after it reported an outbreak of measles in its Disneyland parks. What started out as nine cases grew quickly to 119 — and not just in Disneyland. Though the majority of cases were in the Golden State, cases were also reported in neighboring Oregon, Washington, Arizona, and one case even found its way to New Jersey.
This renewed the long debate on vaccination: Should parents be able to opt out so easy? The anti-vaccine movement maintains vaccines increase the risk for autism (it doesn't) and otherwise strips parents of their rights. But in a survey conducted by CNN/ORC International 80 percent of Americans said parents should be required to immunize. Lawmakers have since been moved to propose new laws that would remove exemptions based on parents' personal beliefs.
Martin Shkreli hikes prices on affordable prescription drugs
Turing Pharmaceuticals CEO Martin Shkreli was under fire for raising the raising the price of the drug Daraprim, a drug design to treat parasitic infections, by 5,000 percent overnight. Each pill went from costing $13.50 to $750, which Shkreli claimed was not motivated corporate feed. Instead, he said it was a ploy to keep his company in business — and it is likely the reasoning behind his second hike of an otherwise affordable drug.
Shkreli calls to attention how hard it is for many Americans to afford prescription, life-saving medication. Increased prices threaten employee access to health care, as companies have to drive up premiums in order to compensate for the difference. It makes them totally unobtainable for employees who don't have insurance at all. Democratic presidential candidates Bernie Sanders and Martin O'Malley have spoken most about this issue during this year's debates, and we expect many more to propose plans as the race continues.
Nations reaches historic agreement on climate change
By the end of this year's UN Climate Conference, nearly 200 countries signed an agreement outlining measures to reduce climate change. Time simplified the agreement, explaining it is "meant to signal the beginning of the end of more than 100 years of fossil fuels serving as the primary engine of economic growth." The agreement also includes "trillions of dollars of capital to be spent adapting to the effects of climate change and developing renewable energy sources.
Recognizing climate change is a huge step forward — it affects public health in ways you don't realize —but some think the agreement is lacking. Gawker pointed out experts didn't suggest a carbon tax, which is what it believes puts a "real price on the carbon emissions causing climate change." Others think the agreement is "too weak" and doesn't lend enough support for developing countries.
Published by Medicaldaily.com