Memorial Day Desserts: 5 Healthy Treats In 10 Minutes Or Less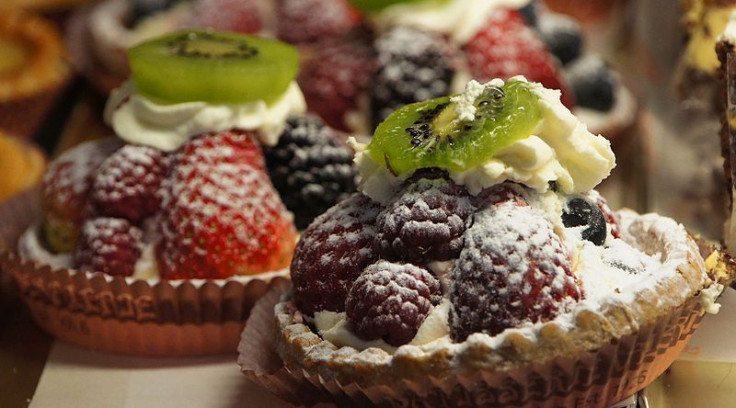 For many of us, Memorial Day signals a culinary feast, despite that usually meaning hoards of burgers and hot dogs on the grill. And with the savory goods come the sweet treats: decadent cakes, succulent pies, and silky ice creams. But the thought of all these indulgent treats can be frightening, leaving you to fret about your waist line right before beach season.
Statistics provided by GrubHub show that women are 25 percent more likely to order dessert than men, but 50 percent of women are more likely to order frozen yogurt at a food establishment whereas 20 percent of men are more likely to order milkshakes. This data suggests that while women are more likely to order dessert than their male counterparts, they also make healthier dessert choices.
In light of that, we've scoured the web and picked five delicate desserts for your guilt-free indulgence this Memorial Day. Keeping the pounds off was never easier than with these simple sweets. With annotated health tips by Medical Daily, these recipes will guarantee you a new rep as the town's top gourmet chef.
1. Banana Ice Cream
Ingredients:
Bananas
Crushed peanuts in bowls
Dark chocolate chips in bowls
Preparation:
Peel bananas, cut into 1-inch slices and place on a lined sheet. Place in freezer. Remove from freezer and blend. Place in containers and add colorful sprinkles.
Healthy Fun Facts:
Bananas are high in potassium (600 mg per banana), which helps balance the sodium in your body. The fibers in this low-fat and highly nutritious fruit contain vitamins A, B, E, K, and C, says Live Strong. The peanut content is a good source of vitamin E, niacin, folate, protein, and manganese that promotes a healthy heart. The decorations of the dark chocolate chips can lower blood pressure and reduce LDL cholesterol by 10 percent because of the flavonoids contained, reports Reader's Digest.
Recipe courtesy of Health Me Up.
2. Coconut Snowballs
Ingredients:
1 gallon French vanilla ice cream
2 14-ounce packages shredded coconut
Preparation:
Make ice cream balls with a 1 1/2-inch scoop, then roll each ball in the shredded coconut. Place them in foil or paper mini-muffin wrappers on a tray. Cover with foil or plastic wrap and freeze.
Healthy Fun Facts:
This coconut dessert delight is loaded with protein, fiber, iron, and zinc. One cup of shredded coconut contains 2.7 grams of protein and 7.2 grams of dietary fiber, reports SELF. The consumption of coconut products has been linked to lower cholesterol levels by researchers from the Weston A. Price Foundation. As for good ice cream, we suggest the Trader Joe's French Vanilla Ice Cream that provides a delicious, creamy texture for your snowballs.
Recipe courtesy of My Recipes.
3. Peanut Butter Parfait
Ingredients:
2 ounces cream cheese, softened
6 tablespoons peanut butter
3/4 cup whipped topping, divided
1/2 cup plus 2 tablespoons graham cracker crumbs
1 tablespoon sugar
4-1/2 teaspoons butter, melted
1-1/4 cups miniature semisweet chocolate chips
Preparation:
In a small bowl, beat cream cheese and peanut butter until smooth. Fold in a 1/2 cup of whipped topping. Set aside.
In a small bowl, combine graham cracker crumbs and sugar. Stir in butter until coarse crumbs form. Press 1 tablespoon of crumb mixture into each of four parfait glasses. Spoon about 2 tablespoons peanut butter mixture over crumbs. Sprinkle with 2 tablespoons of chocolate chips. Repeat layers. Top with remaining whipped topping and chocolate chips. Makes 4 servings.
Healthy Fun Facts:
Who said peanut butter was just for kids? This healthy dessert is widely loved by both kids and adults alike. Those who regularly eat peanut butter have been linked to a reduced risk for heart disease or type 2 diabates, compared to those who rarely eat the kid-friendly snack, reports Harvard Health Publications. The proteins of this peanut butter-centric recipe can build and repair the muscles used to boost your metabolism.
Recipe courtesy of Taste of Home.
4. Ricotta with Balsamic Berries.
Ingredients:
1 cup of balsamic vinegar
2 tablespoons of honey
Pinch of mint
Strawberries and/or blackberries
Ricotta
Preparation:
Boil 1 cup balsamic vinegar, 2 tablespoons honey, and a sprig of mint in a small saucepan until syrupy, for about 7 minutes. Cool the syrup slightly, then drizzle over sliced strawberries and/or blackberries and ricotta.
Healthy Fun Facts:
This dessert is the epitome of eating your way to thinness. The berries in this recipe also contain phytochemicals and flavonoids that may help to prevent some forms of cancer, reports the American Cancer Society (ACS). Blueberries are an excellent addition to your dessert because they contain lutein, which can improve vision.
Recipe courtesy of Food Network.
5. Tiny Pear Tarts
Ingredients:
4 tsp unsalted butter
2 Bartlett pears, peeled, cored, and diced into 1/2-inch cubes
1 Tbsp fresh lemon juice
2 tsp plus 1/2 tsp brown sugar
1/8 tsp salt
4 tsp plain nonfat Greek yogurt
18 mini phyllo shells
Preparation:
In a large skillet, melt butter over medium-low heat. Add pears, lemon juice, 2 teaspoons brown sugar, and salt. Cook, tossing frequently, until pears are tender but not falling apart, for about 7 minutes. In a small bowl, stir together yogurt and the remaining brown sugar. Divide pear mixture among phyllo shells, spooning about 1 tablespoon into each. Top each with 1/4 teaspoon of the yogurt mixture. Sprinkle with lemon zest if desired. Serve warm or let cool to room temperature. Makes 6 servings.
Healthy Fun Facts:
This 130-calorie snack has a high fiber content of 6 grams. The fiber will help eliminate excess cholesterol, helping to prevent excessive eating and snacking. The benefits of including pears in your diet include the vitamins A, C, K, B2, B3, and B6, reports LiveStrong.
Recipe courtsey of Women's Health.
Published by Medicaldaily.com