5 Healthy 4th Of July Appetizers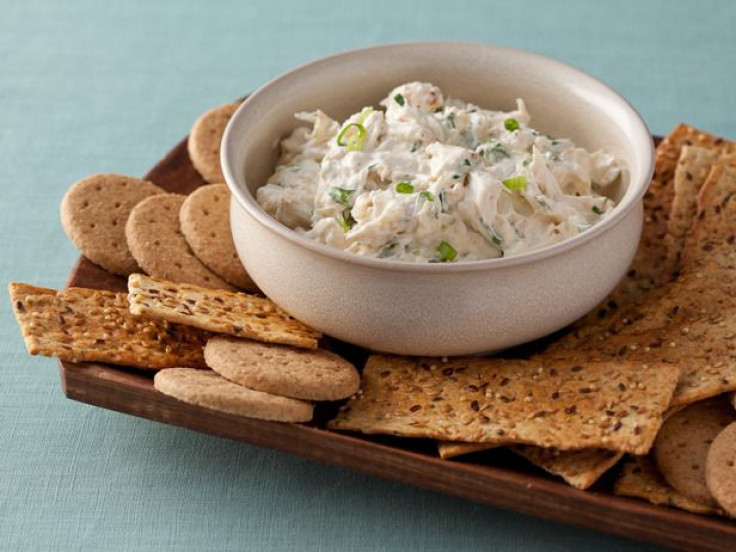 1. Hot Crab Dip
Ingredients
8 ounces reduced-fat cream cheese, room temperature
1/4 cup reduced-fat sour cream
1/4 teaspoon hot sauce
1/4 teaspoon crab boil spices
1 garlic clove, minced
Kosher salt and freshly ground pepper
12 ounces fresh crab meat, picked over for bits of shell and patted dry
2 scallions, thinly sliced
2 tablespoons chopped fresh parsley
2 to 3 teaspoons fresh lemon juice
Whole-wheat crackers for serving, optional
Preparation
Stir together the cream cheese, sour cream, hot sauce, crab boil spice, and garlic in a medium saucepan until smooth; season, to taste, with salt and pepper. Heat the cream cheese mixture over medium-low heat until warm, stirring constantly, 2 to 3 minutes. Fold in the crab, scallions, parsley and lemon juice and warm until heated through, about 1 minute more. Serve immediately.
Nutrition Facts:
Real crab meat (as opposed to imitation meat) provides numerous and essential vitamins and minerals such as vitamin B12 and protein; by itself, crab meat is low in calories and fat. When preparing it, stick to low-calorie additives — meaning, don't pile on the mayonnaise or other fatty condiments. This dish can serve up to eight guests at only 125 calories per serving.
Recipe courtesy of FoodNetwork.com.
2. Salmon Classic
Ingredients
16 appetizer-size pumpernickel bread slices
1/2 cup horseradish cream
16 slices smoked salmon
Dill sprigs, for garnish
Smoked Salmon Spread
Preparation

Top each pumpernickel slice with 1 1/2 teaspoons horseradish cream and 1 slice salmon. Garnish with a sprig of dill.
Nutrition Facts:
Salmon is a favorite fish of ours because of its strong nutritional value. It is high in protein, omega-3, iron, and vitamin B. This is a dish that kids, adults, and even pregnant women can enjoy. Despite the misconception that pregnant women shouldn't eat smoked fish, salmon is good for mothers-to-be, according to TIME. "It's high in omega-3 fatty acids like DHA, which studies show have a variety of benefits for pregnant women and their fetuses, and salmon is a fresh water fish, so the likelihood of mercury poisoning is low," says TIME. Pumpernickel is also a nutritional gem in this recipe. According to Reader's Digest, pumpernickel loads you up with lignans, which are naturally occurring plant compounds that may help reduce the risk of breast and prostate cancers.
Recipe Courtesy of EatingWell.com.
3. Apricot-Pineapple Glazed Shrimp
Ingredients
1 cup apricot preserves
1/4 cup finely chopped dried apricots
2 tablespoons finely chopped onion
1 tablespoon rice vinegar
1 tablespoon Dijon mustard
1 garlic clove, halved
1/4 teaspoon salt
28 uncooked jumbo shrimp, peeled and de-veined
2 cups cubed fresh pineapple
1 medium sweet red pepper, cut into 14 pieces
Preparation
Place first seven ingredients in a food processor. Cover and process until blended; set aside half of sauce for serving. On each of 14 metal or soaked wooden appetizer skewers, thread shrimp, pineapple and red pepper. Grill, covered, over medium heat for three to four minutes on each side or until shrimp turn pink, basting frequently with remaining sauce. Serve with reserved sauce. Yield: 14 appetizers.
Nutritional Facts
Apricots are perfect to eat at this time of year. They are high in vitamin A, potassium, and fiber. Another benefit of this dish is the shrimp. Shrimp is often said to be high in cholesterol content. A study conducted by Rockefeller researchers found that steamed shrimp, which is naturally low in fat, can be safely included in heart-healthy diets for people without lipid problems. As long as you're not eating shrimp every single day and are eating it in moderation, you should be fine.
Recipe Courtesy of TasteofHome.com.
4. Crostini with Gorgonzola, Caramelized Onions, and Fig Jam
Ingredients
1 cup dried figs
1 teaspoon lemon juice
2 cups water
2 tablespoons maple syrup
Dash of salt
Cooking spray
2 cups vertically sliced yellow onion
1 teaspoon balsamic vinegar
1/2 teaspoon chopped fresh thyme
1/4 teaspoon salt
1/2 cup water (optional)
1/2 cup Gorgonzola cheese
24 (1/2-inch-thick) slices diagonally cut French bread baguette, toasted
1 teaspoon fresh thyme leaves
Preparation

To prepare jam, remove stems from figs. Place figs and juice in a food processor; process until figs are coarsely chopped. Place fig mixture, 2 cups water, syrup, and dash of salt in a medium saucepan; bring to a boil. Reduce heat, and simmer 25 minutes or until thick. Cool completely.
To prepare onions, heat a large nonstick skillet coated with cooking spray over medium heat. Add onion, vinegar, 1/2 teaspoon thyme, and 1/4 teaspoon salt; cover and cook 5 minutes. Uncover and cook 20 minutes or until onion is deep golden brown, stirring occasionally. While onion cooks, add 1/2 cup water, 1/4 cup at a time, to keep onion from sticking to pan.
Spread 1 teaspoon cheese over each baguette slice. Top each slice with about 1 teaspoon onion mixture and 1 teaspoon jam. Sprinkle evenly with thyme leaves.
Nutrition Facts:
Dried figs are a great source of dietary fiber and can be great with a variety of different dishes; dried as opposed to fresh figs are a better concentrated source of minerals and vitamins. Not only is it a beautiful herb to top any dish, but it's also high in vitamin K, which helps by making proteins for healthier bones and tissues.
Recipe Courtesy of MyRecipes.com.
5. Cherry Tomatoes Filled With Creamy Pesto Cheese
Ingredients
3 cups fresh basil leaves, washed and dried
2 medium garlic cloves, finely chopped
1/2 teaspoon salt, or to taste
Freshly ground black pepper to taste
1/3 cup plus 2 tablespoons pine nuts, toasted
1 tablespoon extra-virgin olive oil
1 package reduced-fat cream cheese cut into chunks
2 pints cherry tomatoes, washed and dried
Preparation
Combine the basil, garlic, salt and pepper in a food processor. Reserve 2 tablespoons of the pine nuts and add the rest to the basil. Process until the pine nuts are ground. With the motor running, drizzle in the olive oil. Add the soft cheese and pulse until smooth and creamy. Shortly before serving, make an X on the bottom side (opposite the stalk) of each cherry tomato with a serrated or sharp paring knife. Scoop out the seeds with a grapefruit spoon or your fingertips, taking care to keep the tomatoes intact. Scrape the pesto cheese filling into a piping bag fitted with a star nozzle, or small plastic food bag with a 1cm hole snipped in one corner. Pipe a rosette of filling into each cherry tomato cavity. Garnish the cherry tomatoes with the remaining pine nuts.
Nutrition Facts:
This cute and bite-sized dessert is a perfect snack to end our list. Cherry tomatoes have vitamin B-6, vitamin A, and lycopene, which helps to lower your risk of certain diseases caused by cellular damage. A study published in the Canadian Medical Association Journal found that that lycopene can decrease your risk of cardiovascular disease and cancer. Basil contains magnesium, which helps to improve blood flow in the body's vessels. One serving is about three filled cherry tomatoes at only 64 calories per serving.
Recipe Courtesy of Rd.com.
Published by Medicaldaily.com